Focus on merbau trade
Singapore, 17th November 2008—Merbau, a tropical hardwood whose deep red-brown colour makes it popular for interior finishing, paneling, strip and parquet flooring, furniture, veneer, decorative and novelty items, comes under the spotlight today at an international workshop organized by TRAFFIC Southeast Asia to discuss the sustainability of international trade in this valuable timber.
---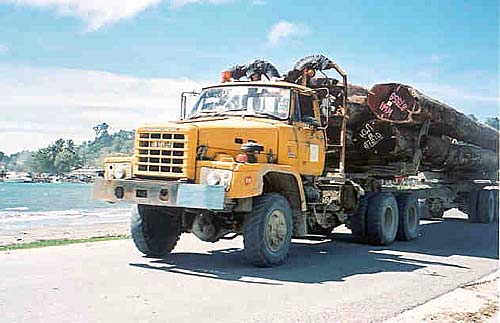 Participants from Australia, China, Germany, Indonesia, Malaysia, New Zealand, Papua New Guinea, Singapore and Thailand, representing the CITES Secretariat, national CITES Management and Scientific Authorities, international organizations, trade associations and research institutes are meeting in Singapore to discuss concerns over excessive logging and unsustainable merbau trade leading to over-exploitation.
Merbau includes species of the Intsia genus, several of which are traded, including the widespread I. bijuga found in Australia, Cambodia, Indonesia, Madagascar, Malaysia, Myanmar, Papua New Guinea, Solomon Islands, Thailand and Viet Nam and I. palembanica from India, Indonesia, Malaysia, Myanmar, Papua New Guinea, Philippines and Thailand. 
However, the harvest of these and many other tropical species is poorly documented and a lack of adequate data often contributes to unsustainable forestry management. The workshop aims to change this. The results of a TRAFFIC study into the merbau trade will be presented and participants will discuss ways to manage and meet demand for merbau sustainably. 
"TRAFFIC is confident this workshop will develop pragmatic and economic solutions to concerns within the merbau trade industry throughout the entire trade chain, from source countries to end-users," said Azrina Abdullah, Regional Director of TRAFFIC Southeast Asia. 
Official statistics show Indonesia, Malaysia and Papua New Guinea exported a total of 282,282 m3 of merbau in 2006. Australia was the main importer for Indonesian merbau, whilst wood from Malaysia mainly headed to the European Union and that from Papua New Guinea mainly went to China and India. Indonesia and Malaysia both currently have bans on exporting round logs.
According to Hajo Schmitz-Kretschmer, Biologist and Plant Officer with the German Scientific Authority: "CITES has addressed unsustainable trade for certain timber species, like Afrormosia (Pericopsis elata), Big-leaf mahogany (Swietenia macrophylla) and Ramin (Gonystylus spp.). Merbau could be next."
A TRAFFIC Review of the merbau trade, together with the workshop's proceedings, will be published early in 2009. 
Funding for the current workshop, which runs until 18 November, was provided by the German Federal Agency for Nature Conservation, the acting CITES Scientific Authority for Germany.
---