Experts link up to combat illegal wildlife trade in Sri Lanka
National wildlife enforcement network formed
Colombo, Sri Lanka, 20th January 2011—National and international experts met this week in Colombo to focus on concerted action to combat illegal wildlife trade in Sri Lanka. 
---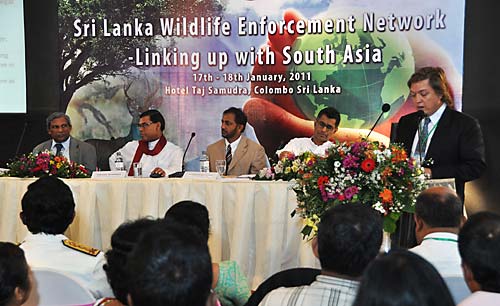 Leadership from the country's Department of Wildlife Conservation, along with Police, Customs and other relevant government institutions and experts, has seen the birth of the Sri Lanka Wildlife Enforcement Network (SLaWEN).
The Hon. Basil Rajapaksa, Minister of Economic Development, was Chief Guest at the "Linking up with South Asia" meeting that brought together representatives of the Sri Lanka Wildlife Enforcement Network with those from international agencies involved in regulation of wildlife trade, including INTERPOL, the United Nations Office on Drugs and Crime (UNODC), IUCN and TRAFFIC, the wildlife trade monitoring network. 
Emerging from years of civil conflict, the economy of Sri Lanka is rapidly developing, and the nation's rich biodiversity offers great potential for increased ecotourism. But the need for safeguards is clearly apparent to combat any illicit activities that may accompany the country's nascent trade boom. 
Briefing participants, Dr Chandrawansa Pathiraja, Director General of the Department of Wildlife Conservation said: "In an era where the country's economy is moving forward, the Department of Wildlife Conservation has a major role to play in developing the ecotourism industry which has the potential to be one of the county's main foreign revenue earners.
"This will be nullified if the biodiversity, including wildlife, is not conserved properly. 
"Hence it is time for action and this is the grid, law enforcement agencies should get together and protect nature for the betterment of both the present generation and generations to come."
Leopard are at risk from poaching to supply demand for their parts elsewhere in Asia, while the Sri Lanka Navy has reported a number of recent arrests of people allegedly involved in the illicit conch trade; the polished shells are smuggled to India and beyond. 
James Compton, TRAFFIC's Senior Director for Asia-Pacific, noted: "The strategic need for wildlife enforcement networks in tackling illicit activity has been amply demonstrated, and it is extremely heartening to witness the initiatives here in Sri Lanka to forge national structures as a backbone for collaborative action throughout the wider Asia region." 
"Through active implementation of such enforcement networks, the region is entering a new era in tackling international wildlife crime effectively."
Later this month, the South Asia Experts Group on Illegal Wildlife Trade will meet in Bhutan to take forward priority actions under the South Asia Wildlife Enforcement Network (SAWEN). 
TRAFFIC's efforts to catalyse national and inter-governmental wildlife enforcement networking in South Asia are generously supported by the US Department of State.
---