Don't Buy Trouble Campaign, one year on
Viet Nam, May 2011—As the holiday season gets underway, TRAFFIC is celebrating the first anniversary of the "Don't Buy Trouble" campaign at Viet Nam's Noi Bai airport.
---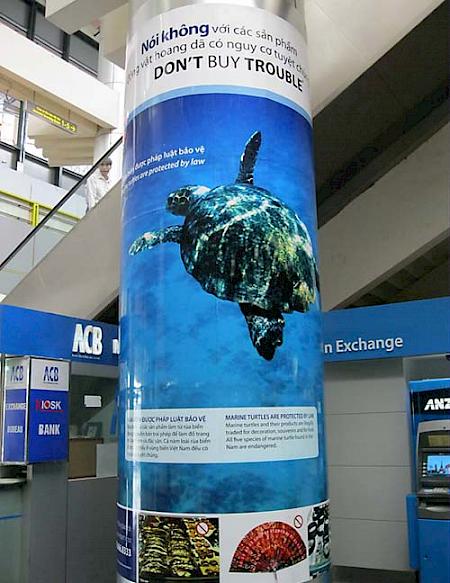 The campaign, which features a permanent display at the airport about wildlife trade, is estimated to have been viewed by around 4 million passengers who fly through Noi Bai each year. 
The campaign was implemented in part thanks to funding from the Intrepid Travel tour company, whose generous donations support TRAFFIC's work in South-East Asia.
Intrepid Travel has its own reason for celebrating this month: on 17th May, Intrepid received the 2011 Global Tourism Business Award at this year's Tourism for Tomorrow Awards, held in Las Vegas, USA.
The Intrepid Travel tour company, which emphasizes social, cultural and environmental responsibility in its operations, won the prestigious award in recognition for its practices in sustainable tourism. 
Based in Australia, Intrepid Travel has offices world-wide and employs 90% local leaders and 100% local guides on its trips.
The company was specifically recognized for its efforts to address climate change through accomplishing carbon neutrality of its business and providing over 45,000 tonnes of carbon offsets since 2007 through its trips and operations.
The associated non-profit Intrepid Foundation has donated more than AUD2.2million (USD2.3 million) since 2002 to organizations that address health care, education, human rights, child welfare, and sustainable development and wildlife conservation. 
The Foundation's donations have supported TRAFFIC's activities in South-East Asia including capacity building with enforcement officials, market monitoring and research and raising public awareness of wildlife trade issues.
"TRAFFIC congratulates Intrepid on securing this truly impressive award," said Chris Shepherd, Deputy Director of TRAFFIC in Southeast Asia. 
"We look forward to continued close collaboration with Intrepid in addressing wildlife trade issues in South-East Asia."
---