Conservationists focus on illegal trade of India's poorly-known wildlife species
New Delhi, India, 9th June 2014—Measures to protect wildlife species, such as pangolins, birds, tortoises and sharks, whose illegal trade in India is poorly known were formulated today during a meeting held in New Delhi. 
---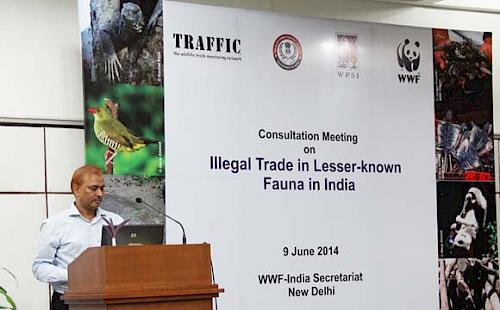 Wildlife experts; policy makers; scientists; research scholars; conservationists; and senior officials from the state forest departments, Ministry of Environment and Forests, enforcement agencies, Wildlife Institute of India (WII), WCCB, and wildlife NGOs brainstormed the steps needed. 
Every year in India, hundreds of pangolins, lizards and tortoises are poached, thousands of birds are illegally trapped, and tonnes of sharks are caught, yet the levels of exploitation on these species are rarely reported. 
"While the threat posed by illegal wildlife trade to some of India's most iconic wild animals, such as the Tiger and Indian Rhinoceros are well publicised, many of India's less well-known species are also rapidly vanishing because of poaching, yet their fate remains largely under the radar," said Dr Shekhar Kumar Niraj, Head of TRAFFIC in India. 
"Pangolins are highly threatened because they are subject to a colossal illegal trade internationally, yet their plight is barely publicised in conservation or media circles. Others, like the monitor lizard, mongoose, Star Tortoises, Spiny-tailed Lizards, freshwater and marine turtles also need immediate attention." 
Monitor lizards, especially the Bengal Monitor, were once commonly seen across the country but appear to have declined markedly, apparently after becoming a target of poachers and illegal trade. 
Little is known about the levels of illegal trade or its impact on species such as sea cucumbers, seahorses or Red Sand, the "double-headed" snake, which has recently been in demand due to new superstitions attached to it.
"TRAFFIC has flagged its concern about these lesser known species for some time, highlighting our concerns in our newsletter—TRAFFIC Post—and also through the distribution of posters and other awareness raising materials," said Dr Niraj. 
In order to throw light on the perceived conservation crisis, TRAFFIC, WWF-India (World Wide Fund for Nature-India), WCCB (Wildlife Crime Control Bureau) and WPSI (Wildlife Protection Society of India) have jointly organized today's meeting on "Consultation on Illegal Trade in Lesser Known Species".  
Key speakers included Ravi Singh from WWF-India, Kamal Dutta from WCCB, Belinda Wright from WPSI and Shekhar Kumar Niraj from TRAFFIC. 
To coincide with the meeting, TRAFFIC also released a poster on weaver birds found in illegal trade in India and a leaflet on trade in shark species in India. Both these communiqués will help the enforcement agencies and other stakeholders to take the requisite enforcement and conservation actions. 
The burgeoning demand for birds is currently a major conservation concern in India with indigenous birds protected under the Wildlife (Protection) Act of 1972 still being traded freely. A recent survey by TRAFFIC at the Sonepur Animal Fair revealed that thousands of birds of at least 20 species were being traded. The bird trade also flourishes in other parts of India, including, Kolkata, Mumbai, Hyderabad and Bangalore.
Mr Ravi Singh, Secretary General and CEO of WWF-India said at the meeting, "Biodiversity in India is under severe threat from a variety of sources. Increasing competition for natural resources and rising human-wildlife conflict threaten the survival of numerous species found in India's rich wildlife habitats. In addition to these threats, the burgeoning illegal trade in wildlife species and its articles and derivatives also poses a significant threat to several key species of flora and fauna, with the potential to seriously impact the health and balance of our eco-systems. While the impact and seriousness of this is evident for iconic species such as the Tiger, Elephant and Rhino, illegal trade in wildlife articles and live animals also seriously impacts lesser known flora and fauna".
Kamal Dutta, Joint Director at WCCB said, "The cardinal issue of considering what to focus our attention on is central to the concern surrounding lesser known species in trade. Systematic monitoring by the way of surveys and enhanced field initiatives like identification guides for enforcement personnel and greater sensitisation efforts for media stories could be the way ahead for ensuring that wildlife in India reflects beyond the Tiger in all glory".
"The focus has been on the mega species, while the lesser known animals valued in the illegal wildlife trade are being quietly and systematically wiped out. In some areas professional Tiger poaching gangs are now focusing on the lucrative pangolin trade. This is a tragedy in the making and we must do something about it before it is too late," said Belinda Wright, Executive Director of WPSI. 
---