Belgians urged to leave a future for souvenirs
Brussels, Belgium, 13 June 2008—As the most popular time for holidays approaches, the Belgian government has launched a campaign to encourage holiday makers to take great care over what souvenirs they buy to remind them of their travels. 
---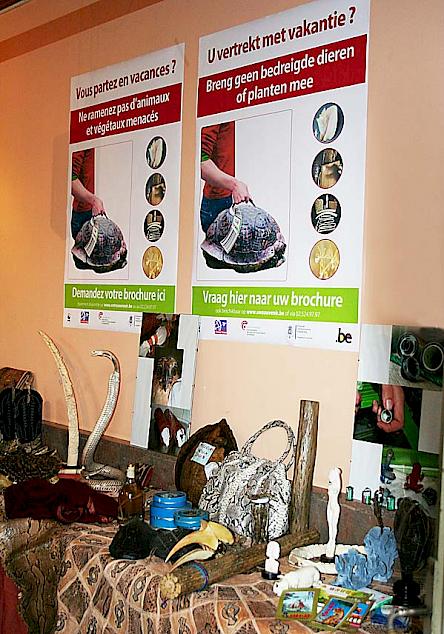 The campaign, "Leave a future for your souvenir" was formally launched by Vice-Minister of Belgium, Laurette Onkelinx, and aims to ensure tourists don't buy inappropriate or illegal souvenirs and thereby contribute to conservation problems for certain species or break local or international laws. 
Information leaflets targeting tourists, developed by the Belgian government in collaboration with TRAFFIC and WWF, will be distributed at Brussels international airport, through travel agents and by WWF.
Every year, several hundred illegal souvenirs are confiscated from holiday makers returning home to Belgium—they include items made from coral and ivory. Since 2003, 307 pieces of ivory, 238 elephant hair bracelets and 15 tortoises have been confiscated at Brussels international airport. 
According to Amelie Knapp, Programme Officer for TRAFFIC in Brussels: "Most seizures made in recent years in Belgium originate from the DRC, Senegal and Thailand." 
Knapp also noted "Many people return from Russia with caviar (sturgeon roe), but sturgeons are threatened with extinction, so they could be making a serious conservation problem worse." 
Knapp recommends people buying caviar should only purchase sealed boxes bearing authentic CITES (the Convention on International Trade in Endangered Species of Wild Fauna and Flora) labelling. 
"If in doubt, don't buy," says Knapp. 
---