Andhra Pradesh forest officials trained in wildlife law enforcement
Hyderabad, India, 21st April 2010—TRAFFIC India and WWF-India in collaboration with Andhra Pradesh Forest Department has helped train 45 Forest Department officers in wildlife law enforcement. 
---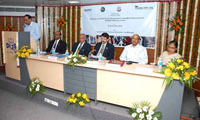 A two-day workshop, held over 17–18 April at Andhra Pradesh Forest Academy, Dulapally (Hyderabad), included sessions on effective implementation of India's Wildlife (Protection) Act, 1972, including important case judgments pertaining to it; procedures and protocols for wildlife crime investigation; an overview of illegal international wildlife trade; wildlife forensics and protocols on collection of samples for analysis. 
Experts on hand included Samir Sinha, Head of TRAFFIC India; Supreme Court Advocates ADN Rao, Ritwick Dutta & Saurabh Sharma; and Dr S P Goyal, a wildlife forensic expert from the Wildlife Institute of India. 
TRAFFIC India also provided resource materials on various aspects of wildlife trade and enforcement, including a forensic kit for field use.
"This capacity building programme will help in addressing various threats to different elements of the biodiversity of the state, ranging from Tigers and Leopards to important timber species like Red Sanders," said Samir Sinha. 
"New aspects of wildlife law enforcement introduced here will help to bolster the enforcement capacities of those officers present and enable them to gain a better understanding of the evolving nature of threats against the state's wildlife. 
"The Andhra Pradesh Forest Department deserves commendation for taking the lead in organizing this event."
---