Malaysia slaps highest ever fines for wildlife crime onto two Vietnamese
Petaling Jaya, Malaysia, 15th May 2019—A Malaysian court today handed down a heavy fine of MYR1.56 million (USD390,000), and two years jail to each of two Vietnamese nationals convicted of illegal possession of threatened and protected animal parts including Leopard, Serow and Sun Bear. It is the first time in Malysia's history a fine of more than MYR1 million has been issued for wildlife crime. 
---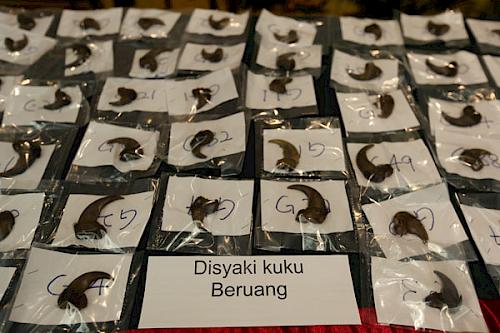 The two men, who were caught in a national park just last month with the wildlife parts and snares, were today convicted on 20 charges under the Wildlife Conservation Act 2010 by the Kuala Terengganu Sessions Court.
They were detained by officers from the Wildlife and National Parks Department (PERHILITAN) on 15th April in Hulu Sungai Tersat in Taman Negara Pahang on the east coast of Peninsular Malaysia with 138 individual parts of Serow Capricornis sumatrensis, Leopard Panthera pardus, Tapir Tapirus indicus, Sun Bear Helarctos malayanus, Golden Cat Catapuma temnickii and Wild Boar Sus scrofa, and 22 snares. At the time of interdiction, PERHILITAN told media it believed the parts seized belonged to at least 2 Leopards, 3 Sun Bears and 12 Wild Boar.
Hoang Van Viet, 29 and Nguyen Van Thiet, 26 both pleaded guilty to charges under four sections of the law for illegal use of snares, illegal possession of Totally Protected species as well as Protected species.
Judge Azman Mustapha also ruled that the duo would be jailed a further 16 years if they failed to pay the fines. The case was prosecuted by Mohd Khairul Mubin Ab Satar, Abd Aziz Mohd Yasin dan Khadijah Mat Amin of PERHILITAN.
Today marks a victory for the Malaysian government. For the first time, fines exceeding MYR1 million have been issued for wildlife crime. There is hope for creating a deterrent effect
Kanitha Krishnasamy, Director for TRAFFIC in Southeast Asia.
The case is also an early success of the recently launched Ops Belang operation by the Malaysian government. It is largely aimed at increasing boots on the ground to curb poaching, particularly of the Malayan Tiger Panthera tigris jacksoni. 
Malaysia is thought to have fewer than 200 wild tigers and authorities have long been battling the scourge of snares set in its forests.
"It all begins with investing in enforcement and having boots on the ground. Imagine what we could do with more," said Dato Abdul Kadir Abu Hashim, Director-General of PERHILITAN. "This verdict gives us the drive to pursue wildlife criminals to the full extent of the law." 
This is the second case in recent months where Vietnamese nationals caught poaching in Malaysian forests have been brought to trial. 
In March, Tran Van Sang, who was caught in the state of Perak in August 2017, was sentenced to a total of 19 years jail and MYR850,000 in fines after being found guilty of 10 charges under the same wildlife law. He was found to be in illegal possession of 273 wildlife parts including Tiger, Leopard, Clouded Leopard Neofelis nebulosa, Sun Bear and Sambar Deer. All except the Sambar Deer are classified as Totally Protected Species under the law. 
Another Vietnamese national, Ho Van Kien, faced six charges for possession of one full tiger skin, a partial tiger skin, one leopard claw, a Sun Bear claw as well as 150 g of tiger meat and 21.15 kg of Wild Boar meat under the same law stemming from his arrest on 4th July 2018. In March he was given 6 years in jail and a MYR400,000 (USD100,000) fine by the Raub Session Court in Pahang.
---