AMWAE/TRAFFIC project wins prestigious UNDP award
Quito, Ecuador, 5th June 2014—World Environment Day: A project working with local communities in Ecuador's Amazon rainforests is one of the winners in this year's prestigious Equator Prize 2014. 
---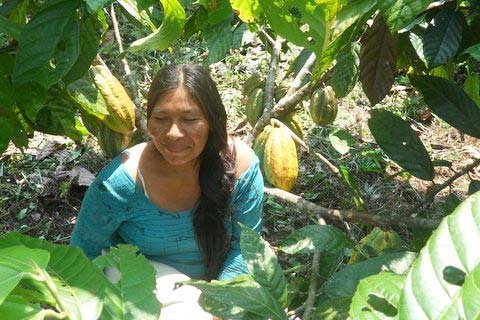 The winning project comprises a unique partnership between the Waorani, an indigenous group from the Yasuní Biosphere Reserve in Ecuadorian Amazon who are committed to conserving their resources, culture and way of life; TRAFFIC, an international non-governmental organization committed to solving conservation issues surrounding trade in wild resources; and BIOS, a prestigious  Ecuadorian chocolate company. 
"We are delighted that AMWAE—the Association of Waorani Women—receives the Equator Prize 2014  in recognition of our joint  groundbreaking initiative that has helped ease the overharvesting of local wildlife and succeeded in providing alternative income streams for the Waorani community," said Bernardo Ortiz, TRAFFIC Regional Director for South America.
The unique collaboration grew from the Waorani seeking alternative economic activities to grant them better income, social recognition, and unsustainable use of their resources, yet preserve and reinforce their identity and cultural values, which too often in the region have been eroded or even lost. TRAFFIC had ambitions to improve conservation in the Amazon by reducing unsustainable commercial demand for wild resources. 
Supported by TRAFFIC, and following lengthy internal deliberations led by the Waorani's Womens' organization, , the community chose the planting of cocoa trees to produce top quality chocolate as their favoured economic activity—one that would generate enough cash to allow their families to liberate themselves from the need to hunt many more mammals than their own protein needs require.
"Thanks to TRAFFIC's expertise, the Waorani have learned how to cultivate, nurture, process and ultimately deliver organic cocoa beans from our new plantations to a factory in Ecuador's capital, Quito, where WAO chocolate—a high quality chocolate product has been created and is set to make its commercial debut, helping generate income for Waorani communities," said Mencay Nenquihui President of AMWAE. 
"We are delighted the success of this initiative has been recognized through the award of the Equator 2014 award."
The Waorani have also introduced fish farming (especially the native Pacu Piaractus brachypomus) and nurseries of "chuncho"—a valuable commercial timber species. TRAFFIC has also supported interventions to improve sustainable harvesting of "chambira" Astrocaryum chambira palm leaves, a plant traditionally used by Waorani women to make baskets, hammocks and handicrafts to sell to tourists. Guidance follows the FairWild Standard principles of fair and sustainable wild resource management and the initiative is featured as a case study in the recently launched Why go Wild? toolkit.
Heavy hunting pressure to supply up to 10 tonnes of wild meat every year to Ecuador's largest wild meat market in Pompeya had led to the rapid depletion of all the large animal populations found in the Yasuní Biosphere Reserve and put the food security and livelihoods of the Waorani at risk. The Waorani decided to stop the commercial hunting of wild animals and as a direct result, the wild meat market in Pompeya no longer exists. In Francisco de Orellana (El Coca), the main city in the region, "Yasuní friendly" menus without wild meat options are the norm in local restaurants, thanks to the concerted efforts of provincial and municipal authorities. 
Up to 25 Equator prizes are awarded each year by the United Nations Development Programme (UNDP) in recognition of projects that provide local sustainable development solutions for people, nature and resilient communities.
Representatives of winning communities will be supported to participate in a series of events held in conjunction with the United Nations General Assembly, scheduled for September 2014 in New York. 
The AMWAE/TRAFFIC project contributes to helping achieve the Convention on Biological Diversity's (CBD) Aichi Biodiversity Targets 4, 14 and 18 at the local level.
In 2012, another project involving TRAFFIC, promoting sustainable harvesting of wild medicinal plants in the mountains of China's Upper Yangtze ecoregion also won a prestigious Equator Prize.
---