4000-and counting-businesses learn to protect wildlife through corporate social responsibility
Phu Quoc, Viet Nam, 22nd April—In just 10 months, the Vietnam Chamber of Commerce and Industry's (VCCI) team of master trainers has trained more than 4000 business people through 100 courses held across 30 provinces to integrate wildlife protection into their corporate social responsibility (CSR) policies. 
---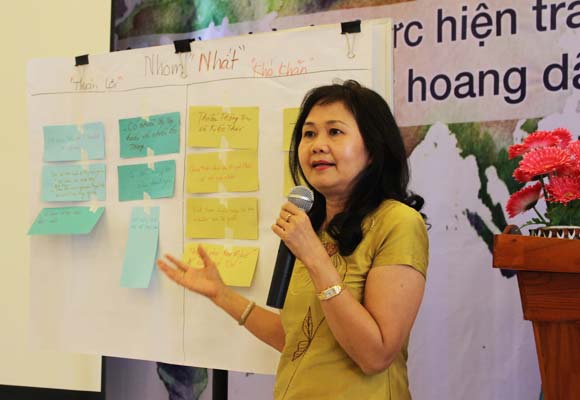 These courses, held by VCCI's Small- and Medium-Enterprise Center, have been incorporating a call for zero-tolerance of illegal wildlife trade and consumption since June 2015. 
At a two-day workshop held that month in Quang Binh, TRAFFIC, the wildlife trade monitoring network, and VCCI provided training-for-trainers about social marketing and promoting wildlife protection through CSR.
With the tools and skills provided by this workshop, VCCI and its 31 master trainers are recruiting some of Viet Nam's most influential people—top business leaders from across the country—to the fight to reduce the demand for illegal wildlife that is driving the world's current poaching crisis.
"More than 700 species in Viet Nam, one of the most biodiverse places on the planet, are threatened with extinction, and there are tens of thousands more around the globe in the same critical situation. Illegal wildlife consumption is one of the biggest reasons for this.", said Madelon Willemsen, Head of Office for TRAFFIC in Viet Nam.
After nearly one year incorporating wildlife protection into their training courses, VCCI's trainers gathered again this week in a follow-up training-for-trainers workshop, to share the challenges and successes they had faced. The feedback gathered from this workshop will help TRAFFIC and VCCI to further support and equip the trainers to mobilize businesses to adopt a zero-tolerance of illegal wildlife consumption.
The trainers were also educated about changes to laws governing wildlife protection in Viet Nam, in anticipation of Viet Nam's newest penal code, effective from 1 July 2016.
"The government is cracking down on illegal wildlife consumption, so now more than ever the business community can and should take action to uphold a zero-tolerance of illegal wildlife consumption. It is our responsibility not only to support the laws of our country, but also to protect the environment and the world in which we live", said Mr. Pham Ngoc Chinh, a VCCI trainer.
The efforts of the VCCI trainers are encouraging business leaders to address the rhino poaching crisis as part of TRAFFIC's Chi Campaign. This campaign, which is built upon the Vietnamese concept of "Chi", the power that lies within, promotes the idea that success, masculinity and good fortune flow from an individual's internal strength of character, not from a piece of horn.
"These trainers are great 'chi' role models for the business leaders they are training", said Trinh Nguyen, Senior Programme Officer for TRAFFIC in Viet Nam. "The trainers have no obligation to promote wildlife protection as part of their job requirements—they are taking the step to educate themselves and others about the illegal wildlife trade because they recognize the responsibility and opportunity they have to promote the wellbeing of people and the planet".
---