TRAFFIC and Qyer joint effort targets Responsible Travel behaviour
Chiang Mai, Thailand, 23rd May 2017—TRAFFIC, WWF and Qyer co-hosted a workshop on the theme of "Rejecting Illegal Wildlife Products and Practicing Responsible Travel", aimed to enable local tourism business operators to influence and dissuade Chinese travellers from buying illegal wildlife products during their trips to Thailand.
---
Thailand, with its reputation as an exotic tropical destination in close proximity to China, is a favourite outbound destination for Chinese tourists. According to Thai media, a total of 32.58 million tourists visited Thailand in 2016, 25% of them from China. 

Thailand is also a significant source, transit and destination country for wildlife trafficking, including wildlife products sourced from other countries in Asia and further afield from Africa and other source regions. In recent years there have been wildlife trafficking cases in Thailand identified as having involvement of Chinese nationals.

About 40 participants from Qyer tourism suppliers, Chinese-speaking tour guides, B'n'B owners,  Chiang Mai Associations of Chinese origins/nationals and Qyer local staff joined the workshop.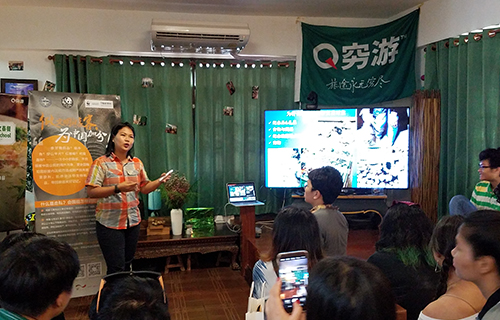 During the event, TRAFFIC staff based in China covered a wide range of topics including introduction to the Convention on International Trade in Endangered Species of Wild Fauna and Flora (CITES); China's management of Import & Export of wildlife products; species profile and products involved in legal cases implicating Chinese nationals in/from Thailand and Southeast Asian countries; illegal trade of high value timber species in Southeast Asia. TRAFFIC staff based in Southeast Asia spoke about wildlife protection laws and regulation in Thailand, especially the legislation and management of the ivory trade in Thailand. The findings of market survey for wildlife products in Thailand were also shared. TRAFFIC staff also spoke about their experience in engaging the tourism industry to reduce the demand for wildlife products in China. 

The workshop also helped the audience to identify illicit wildlife products often-traded in Thailand, including ivory, Tiger bone, Tiger skin, Hawksbill Turtle shell, Helmeted Hornbill casque, pangolin meat and scales, as well as pets such as Slow Loris and exotic plants such as orchids. Participants also learned of the health risks and potential legal penalties for those engaged in trade and consumption of illegal wildlife products. 

"Qyer aims to value, respect and bring benefits to communities, cultures and eco-systems in our destinations. We are encouraging Qyer's customers to join in the efforts to adopt a sustainable consumption travelling style, e.g. protecting local wild animals and plants and buying souvenirs made of sustainable materials," said Lin Yi, Director of Qyer's Outbound Tourism said. 

"We highly appreciate Qyer's promotion of Responsible Travel by collaborating with TRAFFIC and hope these practitioners will distribute the message of refusing illegal wildlife products and promoting wildlife conservation to Chinese travellers beyond this workshop. Such innovative behaviour change approaches can be replicated in other significant illegal wildlife trade markets," said Zhou Fei, Head of TRAFFIC's China Office.

The workshop led to a vibrant discussion amongst participants about how to steer tourists away from illegal wildlife products and what consumption behaviours can benefit wildlife and enhance foreign visits. A series of messaging to promote responsible travelling were put forward:
Don't believe everything the seller tells you;
Eating protected wildlife is an offence and brings health risks;
Riding an elephant could possibly be very stressful to the animals;
Choose sustainable and environmental-friendly souvenirs.
"I shall definitely not introduce any illegal wildlife products to my clients and will persuade them to reject any they intend to buy," said a Chinese speaking guide. 

Qyer is a popular online travel service supplier of outbound tourism with a corporate value on responsible travel. The Chiang Mai advocacy workshop was TRAFFIC and Qyer's first joint outreach workshop to engage tourism service practitioners abroad. 

TRAFFIC's work on engaging the tourism sector was generously supported by GIZ on behalf of the German Federal Ministry for Economic Cooperation and Development (BMZ) and the German Federal Ministry for Environment, Nature Conservation, Building and Nuclear Safety (BMUB).
---
About Qyer
Qyer was founded by Mr Yi Xiao in 2004 when he was studying in Germany. It has become one of the largest online platforms in China with over 80 million users, providing outbound tourism service products. Qyer created the "Being a Responsible Traveller" initiative at the beginning of 2017 as part of its corporate social responsibility policy, aiming to encourage nature-friendly and sustainable travelling behaviours among its customers.