197 ivory tusks intercepted in Cameroon
Yaoundé, Cameroon, 18th September 2014—On 1st September, 197 ivory tusks were seized at a local checkpoint 20 km from Yaoundé, Cameroon, following a tip-off. 
---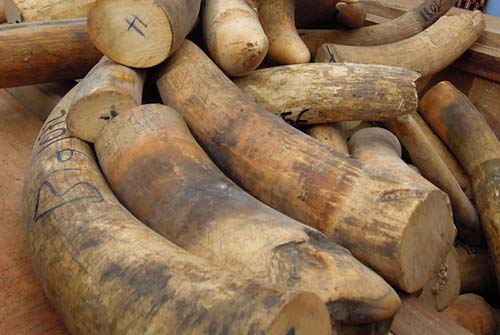 The seizure was supervised by Issola Dipanda, a wildlife official with the Department of Fauna and Protected Areas in the Ministry of Forest and Wildlife. He estimates around 100 elephants must have been killed to provide the quantity of ivory seized. 
The offenders escaped during the seizure but efforts are being made to track them down. 
Cameroon, Gabon and the Democratic Republic of Congo are home to more than half of Africa's forest living elephants. Their tusks are highly valued in Asian markets and are often sold as jewellery or other ivory products. 
The source of the tusks is believed to be from the southern part of Cameroon, around the Cameroon-Gabon border, although the exact location is still under investigation. 
Cameroon has previously witnessed large scale elephant killing incidents, including one in early 2012 when hundreds of elephants were killed the Bouba N'Djida National Park in the northern part of the country by a gang of armed poachers on horseback. 
"Far stricter measures need to be put in place to halt this illegal activity," said Dr Ngeh Paulinus, Regional Director of TRAFFIC in central Africa, "and with maximum jail sentences of only three years, poachers in the country face little deterrent." 
Louisette Sylvie NGO YEBEL, Communications Officer, TRAFFIC
---