Crucial international conference to boost global response to wildlife crime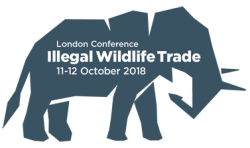 London, UK, 10th October 2018—representatives from 60 governments and a wide range of concerned business and civil society leaders meet this week in London to review and refine the international response to wildlife crime at a meeting convened by the UK Government. 
---
The conference is the fourth in the series of high-level events that began with the London Conference in the UK in 2014, followed by Kasane, Botswana, in 2015 and Hanoi, Vietnam, in 2016. It is being organised collaboratively by the UK's Foreign and Commonwealth Office (FCO), Department for Environment, Food & Rural Affairs (Defra) and Department for International Development (DFID) (now FCDO).
The meeting will focus on tackling illegal wildlife trade as a serious organised crime—strengthening end to end law enforcement and addressing associated corruption; building coalitions through engaging the private sector, civil society and academia; harnessing technology and innovation; and closing markets for illegally traded wildlife.
The London Conference on Illegal Wildlife Trade 2018 strengthens the high-level political attention that is fundamental to maintaining momentum of efforts by the international community to address the strategic and systemic problems that are driving illegal wildlife trade
Steven Broad, Executive Director of TRAFFIC
Among innovative approaches being championed by TRAFFIC during the event this week are initiatives to engage banks and other financial institutions in blocking money flows from wildlife crime, to help internet businesses keep wildlife crime out of their marketplaces, and to develop effective strategies to reduce consumer demand for illegal wildlife products. TRAFFIC has made three pledges to support these aims as part of the conference promise for action.[1]
Other strategies under consideration this week include the critical issue of enhancing the role sustainable livelihoods have in providing alternative, legal sources of income and thus creating a strong disincentive for poor, marginalised communities to become involved in criminal activities. This includes opportunities from sustainable and legal trade in wild resources such as medicinal plants, timber and seafood, which can provide positive incentives to avoid engagement in illicit activities.
"For years TRAFFIC has been at the forefront of championing the need for international action to curb organised wildlife criminals and the negative impacts of their activities on society," said Steven Broad, Executive Director of TRAFFIC. 
"It is heartening to see governments, businesses and other stakeholders across the world stepping forward this week to redouble their efforts to address that challenge and bring new resources and innovative and collaborative solutions to the table." 
During the conference, TRAFFIC staff will be assisting at a number side events, including one on demand reduction where the results of a recently-released report commissioned by Defra will be presented that outlines the techniques used to bring about changes in consumer behaviour. It draws heavily on experience gained in implementing the innovative Chi initiative in Viet Nam targeting consumers of rhino horn. 
The huge strides made in addressing wildlife cybercrime through the active engagement of major online companies in China and the formation of the Global Coalition to End Wildlife Trafficking Online, working alongside TRAFFIC and other NGOs will be highlighted in another event. 
TRAFFIC has also been at the forefront of promoting action by banks and other financial instructions to help in the international response to addressing wildlife crime, and an event highlighting this aspect of our work will also feature. 
Finally, TRAFFIC staff will also be present on three exhibition booths, one of which will focus on work with the transport sector through the ROUTES partnership.
Prior to the intergovernmental meeting, a symposium organised by five UK academic research organisations took place under the title of "Evidence to Action: Research to Address the Illegal Wildlife Trade," where TRAFFIC experts spoke about the recent insights gained into the ivory market in China, in particular the changing attitude of consumers and would-be consumers there and the availability of ivory in the market place. TRAFFIC also participated in a session on engaging communities in tackling illegal wildlife trade. 
---
Notes:
[1] The pledges made by TRAFFIC are to work with governments, the private sector and other partners:
•    To support a business coalition aiming to end Wildlife Trafficking Online, and help grow the partnership towards its mission statement of 80% reduction in online trafficking by 2020, with regional groups of companies across Africa, Asia, Europe and North America.
•    To facilitate and provide the expertise to support a Social and Behavioural Change Communications Community of Practice consisting of public, private and civil society sector experts, academic researchers and practitioners, sharing knowledge and experience globally around how best to eradicate the markets for illegal wildlife products, by changing purchasing preferences, buyer behaviour and potential consumer intentions.
•    To facilitate and provide the expertise to support key members of the financial and banking sector, along with financial investigators, in the area of asset recovery and forfeiture of proceeds from wildlife crime. 
---