Key players in Latin America and the Caribbean's aviation industry connect to address wildlife trafficking
On August 3-4, over 50 representatives from aviation stakeholders in Latin America and the Caribbean (LAC) including airports, airlines, governments and NGOs, gathered to discuss how they can work together to secure the region against wildlife trafficking.
---
The meeting was organized by the USAID Reducing Opportunities for Unlawful Transport of Endangered Species (ROUTES) Partnership, which has been expanding its engagement with the LAC region this year. The LAC region is unparalleled in terms of its biodiversity, considered to contain six of the top ten most biodiverse countries in the world. Unfortunately, this makes it a prime target for poachers and wildlife traffickers who take precious species from their habitats to sell on the black market, both within the region and across the world. Wildlife like parrots and monkeys, sharks, jaguars, seahorses and rare frogs are among the threatened species in demand for pets, food, medicine and fashion. Wildlife trafficking via aviation has been increasing in LAC, so engaging with the industry to raise awareness and build defenses against illegal wildlife trade has become a key priority for ROUTES.
This year, ROUTES co-hosted a series of webinars with Airports Council International (ACI) and International Air Transport Association (IATA) aimed at the air transport industry in LAC. The series culminated in this highly productive meeting, which took place in English and Spanish with simultaneous translation available throughout.
To have such a diverse group of stakeholders brought together at this event made it truly unique. There was a lot of discussion and enthusiasm among participants on the prospect of building new alliances and working together on this problem in the years to come; the potential of what these sorts of collaborations can achieve is really thrilling.
Crawford Allan, ROUTES Lead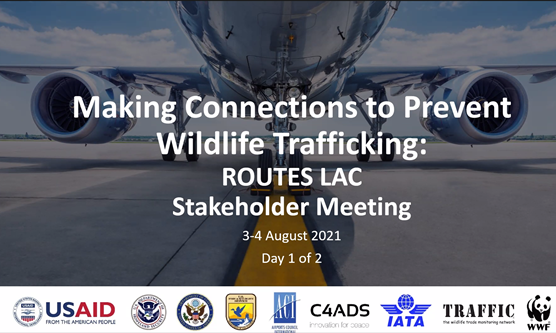 During the meeting, representatives from WWF and TRAFFIC delivered an overview of wildlife trafficking in LAC and the work of the ROUTES Partnership, and attendees were shown where they can access resources that are freely available through ROUTES to assist them in raising awareness and providing training among staff. United For Wildlife's (UFW) Ian Cruickshank detailed the work of UFW's Transport Taskforce in engaging with the private sector to find solutions to wildlife trafficking and shared future plans for Regional Chapter Taskforces in the Americas. Silvana Gomez from ACI and Pedro de la Fuente from IATA provided inputs on how their associations will continue to support airports and airlines, respectively, in the cause.
Crucially, the meetings were far more than a series of presentations. Stakeholders spent significant portions of the sessions in breakout groups according to their stakeholder role, giving them a chance to interact with their peers, and then according to their geographic location, allowing conversation on country-specific challenges and solutions. Participants shared their experiences of addressing wildlife trafficking and made plans for future coordinated efforts between aviation stakeholders in LAC.
It's been encouraging to see that companies are wanting to take this work forward, that wildlife trafficking is continuing to become an increasingly important issue to aviation stakeholders and that the drive to combat it, which the ROUTES Partnership really kickstarted, is continuing to grow.
Cori MacFarland, Senior Corporate Engagement Officer at World Wildlife Fund.
 Below, some of the attendees reflect on the success of the meeting:
 "Knowing that we are several actors who are committed to the fight against illegal wildlife trafficking, I found it gratifying and inspiring; these spaces serve a lot to connect and share experiences. At El Dorado (BOG) we have now ratified our commitment and signed the BPD, being the third airport in LAC."
Alejandra Nieto, Environmental Coordinator at El Dorado International Airport.
"The most outstanding outcome of this meeting is that it has helped connect important organizations in the sector across Latin America. In a comprehensive way, we can all now coincide on a plan of action to control wildlife trafficking each according to our own characteristics and actors, achieving mutual support among all participating countries."
Jorge Rosillo, CEO at Galápagos Ecological Airport
 "Participating in this meeting was extremely helpful for Aeroméxico. We learnt best practices and heard success stories from other aviation and government actors of different countries. Everything that we learned will help us to improve our strategy. But best of all was the great networking we made with others in our country in order to pursue new projects and alliances."
Adriana Prieto, Jr. Sustainable Development Manager at Aeroméxico
---
About the ROUTES Partnership

The USAID Reducing Opportunities for Unlawful Transport of Endangered Species (ROUTES) Partnership brings together transport and logistics companies, government agencies, development groups, law enforcement, conservation organisations and donors to disrupt wildlife trafficking activities, and forms a key element of the concerted international response to addressing wildlife poaching and associated criminal activities worldwide. Further information and resources can be found at www.routespartnership.org. 
About USAID

The United States Agency for International Development (USAID) is responsible for the majority of overseas development assistance from the United States Government and works to end extreme poverty and promote resilient, democratic societies while advancing security and prosperity for America and the world. www.usaid.gov/