AFRICA-TWIX: enhancing collaboration in the fight against illegal wildlife trade in Central Africa
Douala, Cameroon, March 2017—one year after its launch, a meeting to evaluate the effectiveness of AFRICA-TWIX finds there has been significant progress towards fostering collaboration among law enforcement officials in Central Africa to address illegal trade in wildlife. 
---
AFRICA-TWIX (Trade in Wildlife Information eXchange) is an online tool developed to facilitate the exchange of information and co-operation between enforcement officers in Central African countries. 

The system includes both a secure mailing list and a database of wildlife seizures and criminal prosecutions and is modelled on EU-TWIX, a similar system operational throughout European countries for more than a decade. 

One year into its operation, AFRICA-TWIX has around 100 active users from forestry and justice departments, Customs, police, ICPO-INTERPOL, United Nations Office on Drugs and Crime (UNODC) and the World Customs Organization (WCO), while four investigations have been triggered based on information shared on the system.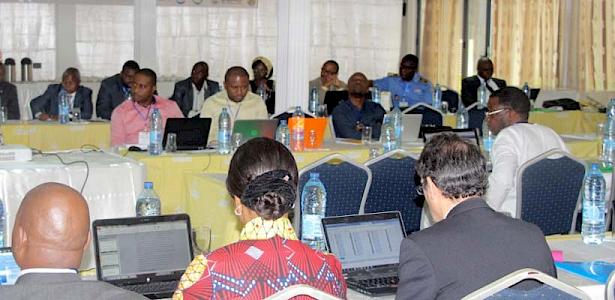 "AFRICA-TWIX has had a very positive start and been warmly received—and with additional funds secured from donors to support the functioning of the system until 2018, we can look forward with confidence to the future," said TRAFFIC's François Kpwang Abessolo, Project Manager for AFRICA-TWIX. 

Meanwhile, there is also interest from three more countries to join AFRICA-TWIX, while the Southern African Development Community (SADC) is developing plans for a TWIX to encompass that region. 

The AFRICA-TWIX evaluation meeting was chaired by the newly appointed Executive Secretary of COMIFAC (the Central African Forests Commission), Raymond Ndomba Ngoye, who highlighted the need to address illegal wildlife trade and related criminal activity in view of their increasing threat to biodiversity through species loss and ecosystem degradation.

Following the meeting, two days of training for enforcement agencies from five Central African countries—Cameroon, Congo, Gabon, Central African Republic and Democratic Republic of Congo—was held, hosted by the Ministry of Forests and Wildlife (MINFOF), in partnership with TRAFFIC and supported by COMIFAC. 

In addition to training in the use of AFRICA-TWIX, some 39 officers from the five countries, plus representatives from ICPO-INTERPOL and COMIFAC also learned about species identification, investigation techniques and major routes used by traffickers in Central Africa. 

Additional training on how to fill in and submit regular reports to the Elephant Trade Information System (ETIS), the world's largest database of elephant product seizures that TRAFFIC manages on behalf of Parties to the Convention on International Trade in Endangered Species of Wild Fauna and Flora (CITES). ETIS focal points were also designated in countries currently without them. 

Both the AFRICA-TWIX evaluation meeting and training event received financial support through the German Polifund measure and implemented by GIZ on behalf of the German Federal Ministry for Economic Cooperation and Development (BMZ) and the German Federal Ministry for Environment, Nature Conservation, Building and Nuclear Safety (BMUB);WWF France; and the United States Fish and Wildlife Service (USFWS). Technical support from TRAFFIC was also provided via the Wildlife Trafficking, Response, Assessment and Priority Setting (Wildlife TRAPS) Project funded by the United States Agency for International Development (USAID). 
---