Workshop develops Congo Basin bushmeat monitoring system
Douala, Cameroon, 10th February 2010—this week a workshop took place in Douala to develop a bushmeat monitoring system in Central Africa.
---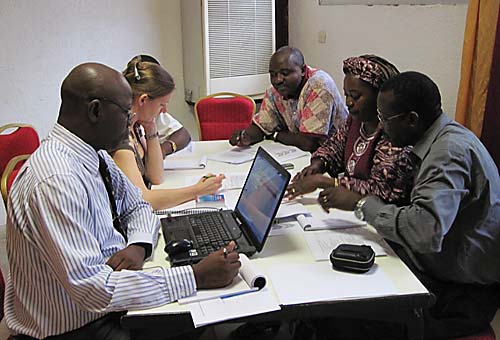 Twenty participants from Central African countries (Cameroon, Central African Republic, Democratic Republic of Congo and Gabon) and Europe (France and United Kingdom) met in Douala to work on the establishment of a monitoring observatory for bushmeat in Central Africa (called SYVBAC).
The workshop, organized by TRAFFIC, the wildlife trade monitoring network, brought together representatives of national authorities (Cameroon, CAR, Gabon and DRC), civil society (NGOs) and technical and research organisations. .
During the opening ceremony, TRAFFIC's Stéphane Ringuet spoke about "tTRAFFIC's role in supporting a participatory process of defining and establishing a bushmeat monitoring system for the sub-region ".
Joseph Tiebou, the "bushmeat" focal point at the Ministry of Forests and Wildlife (Cameroon), stressed  "this system is timely and will be another important step towards the control of the bushmeat sector"
Following the workshop, Nathalie Van Vliet, TRAFFIC's strategic adviser on bushmeat issues, stressed that "the monitoring system will inform decision-makers and guide management policies in the bushmeat sector. . This database can become a tool for decision-making. "
Participants in the workshop included Cameroon National Focal Points for Bushmeat (Ministry of Forests and Wildlife), Central African Republic (Ministry of the Environment and Ecology) and the Democratic Republic. of the Congo (Ministry of the Environment, Nature Conservation and Tourism, Congolese Institute for Nature Conservation), representatives of the WCS, the Network of Protected Areas of Central Africa (RAPAC), the regional program office of Central Africa (WWF CARPO), the International Center for Agronomic Research for Development (CIRAD), the Research Institute for Tropical Ecology (IREF), the Central Africa Project of the European Commission for the implementation of the Central African Forest Observatory (FORAF / FOCA), and the Zoological Society of London, (ZSL).
This workshop was supported by the French Development Agency (AFD) and the German Federal Ministry for Economic Cooperation and Development (BMZ).
Development of a Central African Bushmeat Monitoring System: SYVBAC
Eva Paule Mouzong, Communications Officer, TRAFFIC
---