Wildlife protection stepped up at Melghat Tiger Reserve
Amaravati, India, 21st May 2014—The officials of Melghat Tiger Reserve, the first Reserve to be declared as a Tiger Reserve in the state of Maharashtra, India, underwent rigorous training earlier this month to help bolster wildlife protection measures and law enforcement in the region. 
---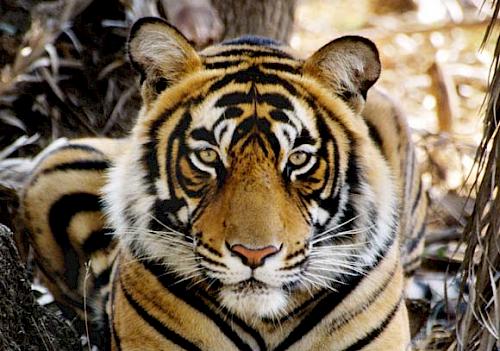 TRAFFIC, in collaboration with the Maharashtra Forest Department, conducted the two-day multi-agency capacity building workshop on Wildlife Law Enforcement and Conservation in India on 9-10 May 2014 at Amaravati in Maharashtra. This workshop was attended by more than 55 officials of the Forest Department, Police , State Reserve Police Force, and few non-governmental organizations.
Situated in the Satpura hill ranges of Central India, Melghat Tiger Reserve has remained under constant poaching pressure due to its rich biodiversity and strategic geographic location. It lies in Melghat forests of Amravati district in Vidarbha region of Maharashtra bordering Madhya Pradesh and is home to at least 80 species of mammals, including Tiger, Leopard, Rhesus Macaque, Common Langur, Indian Pangolin, Indian Wolf, Wild Dog, Jackal, Sloth bear, Stripped Hyena, Jungle Cat, Sambar, Barking deer and Gaur. Also found in the pristine forests of Melghat are 262 species of birds and 54 species of amphibian. 
Mr Bipin Bihari, IPS Inspector General of Police, Amravati Region, who inaugurated the workshop said, "The onus to protect wildlife lies with various enforcement agencies like ourselves. India has been historically rich in biodiversity and has been a forerunner in conservation since Ashoka's era. In the intervening time period, much has been lost due to various pressures on forests and wildlife. If we fail to address these issues pertaining to illegal wildlife trade, the consequences on forests and ecosystem will be disastrous. It is important that all agencies work in tandem to fight wildlife crime". Mr Bihari has assured full support of the police department in the region for curbing poaching and illegal wildlife trade. 
Dr D K Tyagi, IFS, Chief Conservator of Forests & Field Director of Melghat Tiger Reserve said that this workshop would help them to better understand changing trends of wildlife crime in India and South Asia. He emphasized the need for agencies to remain updated on various crime fighting tools and knowledge in order to match up with the evolving global nature of illegal wildlife trade. 
Mr Varun Kapoor, IPS, Inspector General & Director of Police Radio Training School Indore, Madhya Pradesh, was the Guest of Honor at the workshop and a valued member of TRAFFIC's resource team at the workshop. 
Dr Shekhar Kumar Niraj, IFS and currently the Head of TRAFFIC in India commented, " We appreciate the proactive approach undertaken by Melghat Tiger Reserve and the Maharashtra Police Department in efforts aimed at curbing wildlife crime and in organizing this workshop. It clearly shows their commitment towards protecting wildlife that is facing serious challenges."
Dr Niraj also introduced the various aspects of wildlife crime and investigation technicques and gave an overview of the extent of illegal wildlife trade. TRAFFIC's capacity building workshop was organized to impart technical knowledge and skills to the participants and to build co-ordination between the enforcement agencies working in the region for effective wildlife law enforcement. Various definitions listed in the Wildlife (Protection) Act, 1972 and the explanations of different Sections of the Act were discussed in detail. In addition to this, important case judgments of the Hon'ble Supreme Court of India and High Courts pertaining to sections of the Act were also highlighted. 
The procedures and protocols for wildlife crime investigation and guidelines for filing complaints and other court case filing procedures were introduced by senior Supreme Court lawyers. Training sessions giving an overview of illegal international wildlife trade, wildlife forensics, use of metal detectors and protocols on collection of wildlife samples for forensic analysis took place. 
TRAFFIC received tremendous support from law enforcement experts from across India who participated in the resource team. They included Mr Varun Kapoor, IPS, IG & Director, Police Radio Training School Indore, Madhya Pradesh; Dr M K Sarkar IFS, APCCF-Working Plan Tamil Nadu and a national expert on medicinal plants; Dr Sunil K Verma, Principal Scientist, (Centre for Cellular and Molecular Biology) Hyderabad who patented primer Technology for DNA analysis; Prof. B C Choudhury, an eminent former Scientist of the Wildlife Institute of India (WII), Dehradun; Mr A K Jha, Assistant Director of the Wildlife Crime Control Bureau; Mr Abrar Ahmed, a bird trade expert; Dr Mukesh Thakur, Scientist at WII; Mr Ritwick Dutta, Advocate, Supreme Court; Mr Saurabh Sharma, Advocate, Delhi High Court and Dr Shekhar Kumar Niraj IFS Head of TRAFFIC in India. Other resource materials were also provided to the participants, including wildlife forensic kits to be used in the field for collecting samples for investigation.  
TRAFFIC's capacity building workshops are conducted for wildlife law enforcement officials across India, focusing on major Tiger Reserves and biodiversity rich zones, in order to help strengthen wildlife law enforcement and protection in India besides improving the understanding of the evolving nature of such threats. 
---