Wild Boar meat seized in Malaysia
Kuala Lumpur, Malaysia, 3rd April 2009—Four tonnes of Wild Boar carcasses have been seized from a lorry believed to be smuggling the meat from Malaysia to Thailand.
---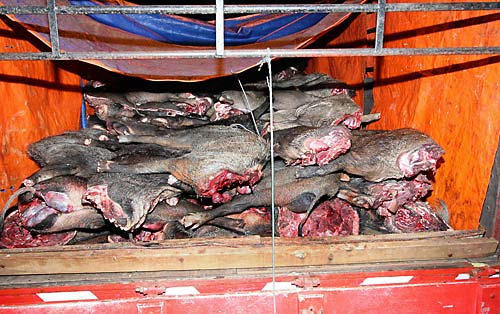 The carcasses which had been disemboweled, decapitated and cut in half, were found piled high in the back of the lorry which authorities flagged down on the evening of 1 April along a major highway in the Peninsular Malaysian state of Pahang.
News reports quoted State Wildlife and National Parks Department assistant director Ahmad Ikhwan Zainuddin saying the meat from about 150 head of Wild Boar was still fresh and could have been taken from the freezer for processing before it was transported.
The department believed that the boars were trapped in jungles around the state and were being transported to Kelantan, a state that shares a border with Thailand.
The lorry driver was unable to produce a permit for his cargo and was detained.
He is expected to be charged under the Wildlife Protection Act 1972 with unlawful possession of Wild Boar meat without a license. This offence carries a fine not exceeding RM3000 (USD837) or a jail term not exceeding three years or both upon conviction.
The Wild Boar is protected under Malaysia law but can be hunted with a permit.
Wednesday's find was not the first of its kind in Pahang. In December last year, over 800 kg of Wild Boar meat, bound for local wild meat restaurants was seized in a series of raids in the same state.
"These seizures show that the scale of the trade is enormous. Even for common species like the Wild Boar, it could pose a huge threat," said Chris R. Shepherd, Senior Programme Officer for TRAFFIC's Southeast Asia office.
"TRAFFIC congratulates the department on this successful raid and urges that it continues to be vigilant for illegal hunting which has already extirpated species like Green Peafowl and Banteng, and pushes others, such as Sumatran Rhino and Malayan Tiger to the brink of extinction in Malaysia."
The seizure is also just one a string of seizures of wildlife meat bound for the regional exotic meat markets.
Just last month, the department's officers in the northern state of Perlis seized over 5 tonnes of Wild Boar meat in a raid on a premise not far from the Malaysia-Thai border. The grisly find included 27 Wild Boar heads and chunks of meat among a haul that included several other species of wildlife.
"Malaysia has become a significant source of illegally harvested wildlife for the export market to other parts of Southeast Asia and East Asia.
"It's crucial that authorities crackdown on illegal hunting and the use of snares on wildlife," said Shepherd.
---