West Bengal: enforcement officials learn about latest technology to fight wildlife crime
India, December 2015—a two-day capacity building workshop was held earlier this month for enforcement officials from across West Bengal on wildlife law enforcement. 
---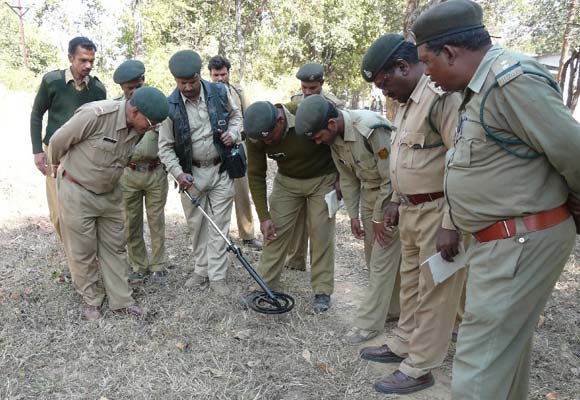 Eighty officials from the departments of Forest and Wildlife, Police, Customs and Central Excise, Sashastra Seema Bal, Railway Protection Force, Border Security Force and the Indian Army met at Mahananda Wildlife Sanctuary in Sukhna, West Bengal for the two-day meeting. 
The event was part of the capacity building programme that TRAFFIC has been running in India for the past seven years through which the anti-poaching and wildlife law enforcement skills of nearly 3,500 officials from various agencies across India have been enhanced. 
Organized by TRAFFIC and WWF-India in partnership with the Directorate of Forests, West Bengal, it was the first time that Indian Army officials had attended a TRAFFIC-led wildlife law enforcement training workshop.
Mahananda Wildlife Sanctuary is strategically located close to international borders with Nepal, Bhutan and Bangladesh and is an important hub for illegal wildlife trade and wildlife crime. It serves as an important transit point for the smuggling of rhino horns, skins of tiger and leopard, pangolins, live birds, red sanders, bear bile, monitor lizards and various species of turtles and tortoises among other wildlife. 
Inaugurated by Mr Manoj Verma IPS, Commissioner of Police, Silguri, and Dr P.T. Bhutia IFS, Additional Principal Chief Conservator of Forests, North Bengal, the meeting aimed to strengthen the knowledge and skills of the enforcement officials and to build partnerships and co-operation among agencies to curb wildlife crime. 
Dr Shekhar Kumar Niraj, Head of TRAFFIC in India, spoke about the strategic importance of West Bengal and presented the latest information on trade trends and drivers, including the species involved in trade and to meet particular domestic and international demands. 
Dr Niraj said: "The age group of those involved in illegal wildlife trade has reduced considerably with a number of highly educated youths now trafficking high demand wildlife species while children as young as nine or ten years are learning poaching techniques."
Meeting sessions covered intelligence collection and collation, wildlife laws and other corroborative laws, specimen identification, DNA finger printing, wildlife forensics and various other aspects of effective wildlife law enforcement. Special sessions were held on trade in specific faunal groups, including reptiles and wild birds, and one on identification of wildlife parts and derivatives commonly found in illegal wildlife trade was conducted by WCCB experts.
Participants also received intensive hands-on field training on surveillance, seizure and interrogation, wildlife crime scene investigation, identifying and dismantling traps set up for poaching, interrogation of suspects, sample collection and packaging, and utilization of deep search metal detectors to detect metal snares. Five deep search metal detectors were provided to wildlife divisions, including Mahananda Wildlife Sanctuary, to augment their anti-poaching initiatives. 
The two day workshop was conducted by TRAFFIC's team of highly skilled and knowledgeable resource personnel including Mr Varun Kapoor, Indian Police Service officer; Dr M.S. Kachhawa, a senior lawyer; Dr S.P. Goyal, Scientist Emeritus at the Wildlife Institute of India; and Mr Nishant Verma from the Wildlife Crime Control Bureau (WCCB) of India.
---