The World Zoo and Aquarium community makes generous contribution to help end wildlife trafficking
Puebla, Mexico—during the 71st World Association of Zoos and Aquariums (WAZA) Annual Conference in October 2016, attending representatives raised, in a matter of minutes, a total of USD78,000 to help support TRAFFIC's global efforts to reduce wildlife trafficking.
---
The world zoo and aquarium community welcomes over 700 million visitors annually. WAZA's goal is to guide, encourage and support the zoos, aquariums and like-minded organisations of the world in animal care and welfare, environmental education and global conservation.
 
TRAFFIC's Southeast Asia Regional Director, Chris Shepherd, emphasised the importance of cross-boundary co-operation and legislative change to attending representatives from across North America during his speech at the conference. He highlighted key initiatives currently underway working to support threatened wildlife species which include pangolins, tortoises and songbirds. The donation made by WAZA will make a significant contribution in helping to continue this work.
It brings me great pride to be involved in a community that bands together to make a big impact on such an important issue.
WAZA President, Susan Hunt
TRAFFIC thanks the following WAZA members that contributed to this donation: Association of Zoos and Aquariums, The Calgary Zoo, Houston Zoo, Kansas City Zoo, Lincoln Park Zoo, Smithsonian's National Zoo and Conservation Biology Institute, North Carolina Zoo, Parque das Aves - Educação Ambiental, Ray Hole Architects, Sedgwick County Zoo, Saint Louis Zoo, Texas State Aquarium, Tulsa Zoo, The Virginia Zoo, Wellington Zoo, Zoos Victoria, ZSL.
---
About WAZA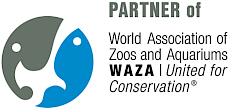 The World Association of Zoos and Aquariums (WAZA) is a global organisation that strives to harmonise the principles, policies, practices and strategy for zoos and aquariums worldwide. WAZA is the unifying representative of the global zoos and aquarium community and works in partnership with international conservation organisations such as IUCN and other non-government organisations to advocate for high standards of animal welfare and to achieve conservation in zoos and aquariums and in nature.