Water puppet theatre spreads the message to protect Viet Nam's biodiversity
Ha Noi, Viet Nam, 22nd May 2013—In support of International Biodiversity Day today, the Thang Long Water Puppet Theatre, in collaboration with TRAFFIC and the Biodiversity Conservation Association (BCA) under the Ministry of Natural and Environmental Resources (MONRE), is holding a series of shows for schoolchildren in Ha Noi to raise awareness about the threats facing biodiversity in Viet Nam.
---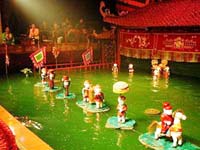 Schoolchildren from selected primary schools will attend the newly developed show called "Ao Lang – Village Pond" during May. 
Ao Lang focuses on the importance of biodiversity protection and water conservation through a series of short stories exploring issues of habitat degradation and competition for natural resources and is a part of the theatre's efforts to create socially conscious yet entertaining shows that showcase the rich history of Vietnamese water puppetry.
"As Viet Nam sees many of its species being lost to habitat destruction, climate change and poaching, many young Vietnamese are growing up in a time in which their natural heritage is being taken away from them," said Dr Naomi Doak, Coordinator of TRAFFIC's Greater Mekong. Programme. 
"People need to be aware of just how amazing and unique Viet Nam's wild animals are, and how best to live in harmony with them."
Although some primary and secondary schools in Ha Noi include issues relating to the environment and biodiversity as part of their curricula, this is primarily due to the efforts of individuals within schools rather than an overarching educational policy. The water puppet show will help to expose students to pressing environmental issues that are not always discussed within traditional educational settings.
"It is important that environmental issues, including biodiversity protection, start to become a required topic that is incorporated into educational policies and youth programs in Viet Nam," said Dr Pham Anh Cuong, Director of BCA. 
"Given the role of the environment in shaping people's lives, it is necessary to educate children about the dangers of environmental degradation as they are the future of this country." 
"Events such as this help students learn about the biological world and the huge diversity of plants and animals in Viet Nam and why this is worth protecting."
The show will become a permanent feature of Thang Long Water Puppet Theatre's weekly lineup of performances available to the general public. 
"As one of the most visited attractions for students, adults and tourists in Ha Noi, we thought it was important to develop a show which discusses pressing environmental issues in a way that is understandable and fun for children," said Mr Nguyen Hoang Tuan, Director of Thang Long Water Puppet Theatre.
"By working with BCA and TRAFFIC, we are hoping to have a lasting impact on the youth of Ha Noi so that they will appreciate and value their natural heritage and want to protect the environment." 
---
About Biodiversity Conservation Agency BCA
Biodiversity Conservation Agency (BCA) is the organization under the Vietnam Environment Administration and performs the function of assisting the Director General of Vietnam Environment Administration to execute state management of conservation and sustainable development of biodiversity resources.
About Water Puppet Theatre
Thang Long Water Puppet Theater was established in 1969 and keeps growing and developing under the investment and direction of Hanoi People's Committee and Department of Culture- Sport- Tourism. Beside the artistic activities, the Theater always cherishes the protection and conservation of traditional arts of Vietnam.