Vietnamese authorities confirm more than a tonne of ivory pieces seized on Chinese border
News update: according to a Vietnamese media report, Customs in the port of Hai Phong seized 300 kg of ivory on 5th November, said to be imported by a company based in Mong Caihttp://bit.ly/skOtFg
Ha Noi, Vietnam, 4th November 2011—Following scientific analysis, Vietnamese officials have confirmed that all 211 items seized during a raid in northern Viet Nam last month were, as suspected, African Elephant ivory. 
---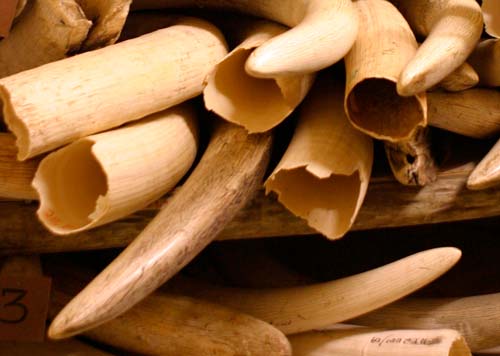 Weighing more than a tonne and hidden inside bundles of cloth, the ivory was confiscated on 22nd October from a river boat near the city of Mong Cai, close to the country's border with China. 
Three people, all Chinese citizens, were arrested and taken into custody for further questioning.
"TRAFFIC commends Vietnamese Customs on this important seizure, which is indicative of the increasing illegal trade of ivory within Southeast Asia. It is imperative that the origin and destination of the shipment be identified by authorities," said Chris Shepherd, Deputy Regional Director of TRAFFIC Southeast Asia.
"It is vitally important that officials investigate the movement of ivory from Viet Nam into China and prosecute those involved. This will require a co-ordinated effort among enforcement agencies in Asia and Africa. Only through joint co-operation between producer and consumer countries can the trafficking of ivory be effectively tackled."
Officials believe that the shipment was intended for buyers in China and it is believed to have originated from Africa. Globally, illicit trade in ivory has been escalating since 2004 and demand from Asia is considered to be the leading driver of elephant poaching in Africa.
"Since 2009, Vietnamese authorities have seized 9.3 tonnes of elephant ivory and earlier this year Chinese authorities apprehended another 2.2 tonnes of ivory moving across the Vietnamese border into a remote area of China," says TRAFFIC's ivory trade expert, Tom Milliken.
"These grim figures are testimony to just how active this illegal trade route is."
"China and Viet Nam must join forces to stop this backdoor route into the Chinese market." Tom Miliken, TRAFFIC's ivory trade expert
This incident comes shortly after Vietnamese authorities seized more than 200 kg of ivory being smuggled in the north central province of Nghe An in September. Three men connected to the shipment were arrested by local authorities and are currently being held awaiting prosecution. 
In 2007, a TRAFFIC report presented to CITES (the Convention on International Trade in Endangered Species of Wild Fauna and Flora) warned that Asian-run organized crime syndicates based in Africa were increasingly using Viet Nam as a conduit for ivory moving on to China. 
Vietnamese law enforcement officers have recently met some of their counterparts in southern Africa, to strengthen international collaboration on tackling international, organized wildlife crime. 
---