Viet Nam and Cambodia join forces to fight illegal wildlife trade
Tay Ninh, 27-28 April, 2011 - Enforcement agencies that monitor and control wildlife trade at the border between Cambodia and Viet Nam will organize a workshop this week to strengthen collaboration to combat illegal trade in wildlife between the two countries.
---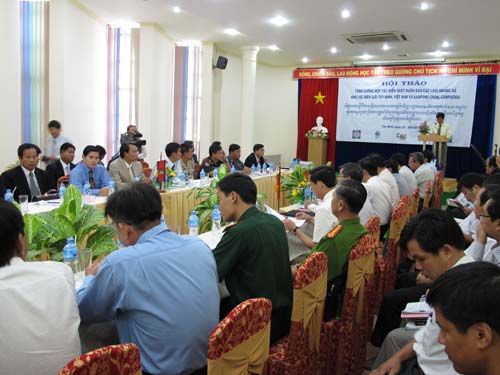 The workshop will be a platform to share experiences, consolidate knowledge and understanding, and develop a plan for improved collaboration and information exchange aimed at curbing the illegal wildlife trade along the Tay Ninh border.
"Illegal wildlife trade is increasingly becoming a regional challenge, requiring countries to work more closely together," said Dr. Ha Cong Tuan, Deputy Director of the Viet Nam Administration of Forestry.
"This is an opportunity for Viet Nam to collaborate and co-operate with its Cambodian counterparts on bilateral solutions that fulfil national and international commitments regarding wildlife trade," emphasized Dr. Ha Cong Tuan.
The event targets officials working in Viet Nam's Tay Ninh Province and the bordering Kampong Cham Province in Cambodia. Recent road improvements have connected the economic hubs of Phnom Penh and Ho Chi Minh City through Kampong Cham and Tay Ninh provinces, posing great challenges to wildlife trade enforcement along the border.
While both Viet Nam and Cambodia have made efforts to halt the illegal trade in wildlife on their side of the border, co-ordination between the two countries has been limited.
Arguably, the most important regional co-operation mechanism to date is the ASEAN Wildlife Enforcement Network (ASEAN-WEN) - a network of the 10 ASEAN Member States, including Viet Nam and Cambodia, that focuses specifically on combating illegal wildlife trade and exploitation.
"This workshop will support a number of mechanisms for regional co-operation that are already in place, and strengthen these existing processes to detect and prosecute violations," said Mr. Sulma Warne, Co-ordinator for TRAFFIC's Greater Mekong Programme.
"This workshop is a commendable example of member countries turning commitments under ASEAN-WEN into action on the ground where it matters. It's what we hope to see more of around the region," added Mr. Warne.
NOTES
The workshop is being hosted by the Viet Nam Administration of Forestry under the Ministry of Agriculture and Rural Development, with technical support from TRAFFIC, the wildlife trade monitoring network, and the Wildlife Conservation Society. It is part of the "Tiger Futures: Mainstreaming Conservation in Large Landscapes" project funded by the World Bank's GEF programme. A similar workshop for enforcement officials from Viet Nam and Lao PDR is planned for the end of May this year.
ASEAN-WEN is the Association of Southeast Asian Nations Wildlife Enforcement Network.  It involves environmental, law enforcement and customs agencies in all 10 ASEAN countries and facilitates cross-border collaboration in the fight against illegal wildlife trade in the region.  Launched in Bangkok on December 1, 2005, it now is the world's largest wildlife enforcement network.
Viet Nam's CITES Management Authority is the ASEAN-WEN focal point within the country. Together with the Forest Protection Department and Conservation Division, the CITES Management Authority works under the newly established Viet Nam Administration of Forestry within the Ministry of Agriculture and Rural Development. 
 
TRAFFIC, the wildlife trade monitoring network, works to ensure that trade in wild plants and animals is not a threat to the conservation of nature. TRAFFIC is a joint programme of WWF and IUCN, the International Union for Conservation of Nature.
---