Urgent action needed to prevent the loss of Sambar in Peninsular Malaysia
Petaling Jaya, Malaysia, 26th February 2015—An alliance of conservation organizations in Malaysia is calling upon the government to uplist the Sambar to a Totally Protected species in Peninsular Malaysia, following a study carried out by leading conservationists into the species's status. 
---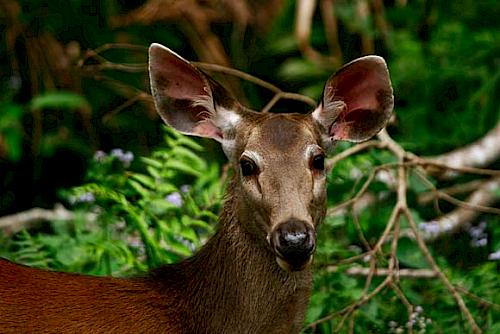 Sambar, the largest deer species in South-East Asia, is severely threatened due to constant poaching pressure, and loss of critical habitat due to development and deforestation. According to the study the "the process of extinction will be exacerbated for this species in Peninsular Malaysia."
"Relentless poaching of Sambar has knock on effects for other species too, they are an integral part of the ecosystem," said TRAFFIC's Dr Chris R Shepherd, one of the study's authors. 
"Sambar are the most important prey species for the highly threatened Malayan Tiger—saving Sambar is critical to saving Tigers."
The study's other authors were Malaysian Conservation Alliance for Tigers (MYCAT) general manager Dr Kae Kawanishi, WWF-Malaysia's Tiger Conservation Programme lead research scientist Dr Mark Rayan and Wildlife Conservation Society-Malaysia Programme Director Dr Melvin Gumal.
Together they analysed images captured by infrared camera traps during 23 studies carried out between 1997 and 2008. Sambar were rarely detected outside protected areas, which accounted for a mere 16% of the total available habitat for the deer in the Peninsula. Of 414 Sambar photos, 346 came from protected areas. No Sambar were recorded in 15 forest reserves studied.
"Every effort should be taken to ensure the Sambar is not lost," said Shepherd. 
"More effective actions to curb poaching and shut down the illegal meat trade in Peninsular Malaysia are absolutely crucial to this and other species' survival."
Based upon the findings, the experts also called for the Sambar to be uplisted to "Endangered" on the International Union for the Conservation of Nature (IUCN) Red List.
---