UK companies chart a sustainable future for wild-harvested plant ingredients
UK, 9th September 2014—Last week, in a quiet corner of the Somerset countryside, some of the UK's leading organic brands met to work together on shared concerns around sustainable collection and fair trade of wild plant ingredients.
---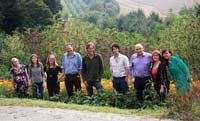 The meeting was co-organised by the FairWild Foundation and TRAFFIC (the wildlife monitoring network, and a FairWild Foundation partner), and hosted by the Organic Herb Trading Company (OHTC), a registered trader of FairWild ingredients.
The meeting coincided with an important milestone in the development of the FairWild initiative – OHTC's decision to offer FairWild-certified ingredients for general sale. From autumn 2014 the company will hold stocks of FairWild-certified nettle, limeflower and liquorice – all of which are additionally certified organic by the Soil Association. OHTC is currently the only processor and distributor of FairWild herbs and spices in the UK.
"We believe that FairWild products will play an increasingly important role within ethical supply chains in the future" commented Eileen Veitch-Clark, OHTC's Production & Standards Co-ordinator.
"Harvesting wild-grown plants is part of our tradition and history and in many countries is an important source of income for people who do not have their own land – often some of the poorest and most marginalised of the population. The FairWild certification scheme not only ensures they are paid fairly and treated respectfully; it also guarantees collection of these plants is at a sustainable level, ensuring they will be around for the generations to come."
The FairWild stakeholder meeting brought together participants with different experience and perspectives on wild harvesting, with representatives of manufacturing companies, traders and civil society all present. A key topic of conversation was how to communicate about wild collection, and raise public awareness of the issues.
"Industry interest and commitment to sustainable sourcing is increasing, and we are excited to see the efforts of our FairWild licensed manufacturers being recognised. For example, Pukka Herbs recently won a 2degrees award for their work with FairWild, based on their leadership to inspire change in their supply chains," said Bryony Morgan, FairWild Foundation Secretariat.
"They are also doing a great job in communicating about wild plants through their website and social media. However, public awareness of the critical environmental and social sustainability issues remains limited. We hope to see the dialogue around sustainable wild collection and fair trade continue to grow."
The participants also had the opportunity to share their experience with practical implementation of the FairWild Standard and certification scheme. They discussed topics such as how to implement the FairWild Premium Fund successfully and support development of projects that benefit the collectors and their communities.
"At Neal's Yard's Remedies improving people's lives is really at the heart of what we do. Not just the lives of our customers, but also the people we work with, our suppliers and their families and communities. This is why we were delighted to join other pioneering organic brands to discuss the future of FairWild certification, to celebrate its achievements so far, and to help build on its success," said Vicky Murray, Head of Sustainability at Neal's Yard Remedies.
Companies such as OHTC, the meeting host, can have a key function in establishing trade networks for sustainable herbal ingredients, given their close connection to the producers who harvest the resources. OHTC explained their belief that through participation in FairWild, the company can play an important role in pioneering sustainable supply chains for wild-collected ingredients. This requires working in partnership with concerned manufacturers and producers alike.
"The Organic Herb Trading Company is proud of its long standing association with the FairWild Foundation and we are keen to do everything in our powers to help promote the sale of products that meet their standards," said OHTC's Managing Director, Jim Twine.
"Innovative food ingredients that are both FairWild and Soil Association Organic certified are good for the planet and the people that harvest them. And with leading brands like Pukka, Neal's Yard Remedies and London & Scottish already on board we expect the market to really take off in the years that come. The timing just feels right – especially with the next generation of ethically conscious consumers helping to drive the resurgence in organic sales."
For more information on FairWild, and to join subsequent meetings and workshops in the UK and beyond, please contact the FairWild Foundation Secretariat.
---