Two-year jail sentence in Malaysia's biggest tiger part smuggling case
Alor Star, Malaysia, 7th February 2013—A court case involving Malaysia's biggest ever seizure of trafficked Tiger parts today saw the conviction of a 29-year old man, who was sentenced to a total 60 months in prison.
---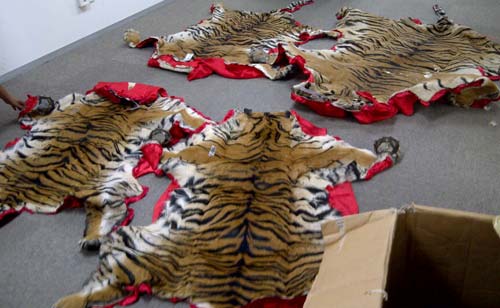 However Mohd Nor Shahrizam Nasir, found guilty on two charges of illegal possession of Tiger parts and one for possession of African Elephant ivory, will only serve 24 months in jail as the judge ordered that his sentences run concurrently.
A conviction under the section of the law involving Tiger parts also carries a mandatory fine of "not less than RM100,000 and not more than RM500,000 and a jail term not exceeding five years." 
However, the court did not issue the mandatory fine. In February last year, he was arrested at this home where Wildlife Department officers found eight Tiger skins, 22 bags of Tiger skulls and bones and nine African Elephant tusks.
Mohd Nor Shahrizam, from the town of Alor Star in northern Peninsular Malaysia claimed trial to charges under the Wildlife Conservation Act 2010.
This morning he was handed down a sentence of 24 months each on the charges of keeping the eight Tiger skins, and the 22 Tiger skulls and bones. He received a further 12-month jail term on the third charge of keeping African Elephant tusks. 
Judge Mohd Rosli Osman granted the defence a stay pending an appeal and ordered that the convicted man's bail, initially set at RM70,000, be increased by an additional RM10,000. If Mohd Nor Shahrizam raises bail, he will be free pending his appeal. 
TRAFFIC welcomed the conviction but noted its concern that the sentence imposed contradicted the provision of the laws under which Mohd Nor Shahrizam was charged.
"This is shocking given that the mandatory fine is explicitly stated in the Act.  It is also disappointing considering it has taken 13 years of hard work and the effort of so many to include a punitive minimum fine for heinous wildlife crimes," said TRAFFIC Southeast Asia Regional Director Dr William Schaedla.
TRAFFIC has learnt that the prosecution will seek a revision of the sentence.
Schaedla also disagreed with the argument raised by the defence during the trial; that the crime in question was insignificant because it did not involve loss of life. 
"Such arguments fail to recognize that the arrest in this case was linked to the largest Tiger seizure Malaysia has ever seen – eight skins and the skulls and bones of 22 Tigers were impounded from the culprit's Alor Star residence," he said.  
"It also contradicts recent international developments that are putting wildlife crime on a par with other serious crimes such as drugs and arms smuggling and human trafficking." 
"The short jail term and the lack of a fine are a demoralizing finale to what should have been a victory against wildlife crime. We hope the lapse does not crush the spirit of those authorities who are still working hard to protect Malaysia's 500 remaining Tigers."
---