Training to boost wildlife crime investigation in Belum-Temengor, Malaysia
Kuala Lumpur, Malaysia, 24th April 2012—Enforcement officers from 11 agencies working across one of Peninsular Malaysia's most important wildlife landscapes took part in a two-day intensive training session to boost wildlife crime investigation in the area.
---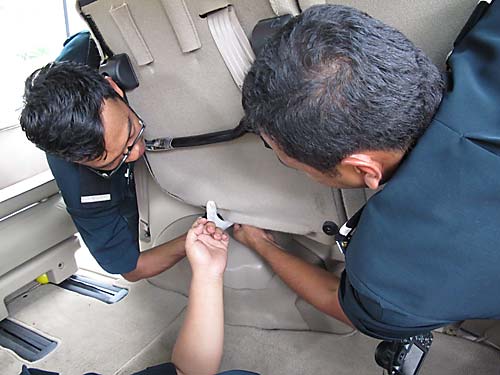 Participants from the Royal Malaysian Police, Anti-Smuggling Unit and the Department of Wildlife and National Parks, working in the Belum-Temengor Forest Complex, were drilled in wildlife legislation, investigation techniques, informant handling as well as evidence collection and handling.
Officers from the Royal Malaysian Customs, Forestry Department, Marine Police, District Office, Perak State Parks Corporation, People's Volunteer Corps, Immigration Department and the Armed Forces also participated.
The workshop organized by TRAFFIC Southeast Asia in collaboration with WWF-Malaysia and the Hulu Perak District Office was designed to strengthen investigations and increase the rate of prosecution in a landscape long considered an illegal hunting and trade hotspot.
The forest complex is a globally important Tiger landscape and is also home to other endangered species such as pangolins that often turn up in raids.
Authorities have arrested four local poachers and seized 30 pangolins since last November. Recently there has also been an increase in the number of foreigners arrested for poaching agarwood, the dark aromatic deposits of resin produced in the heartwood of Aquilaria trees in response to wounding or penetration of the tree and infection by a mould.
During the last three years, more than 400 animals, including pangolins, Tigers, Asian Elephants, Gaur, and Sambar Deer have been killed in Belum-Temengor. In addition, 142 snares have been removed and numerous foreign poacher camps discovered in the area.
In response to the growing threats posed by wildlife poaching and smuggling, local agencies formed a Joint Enforcement Task Force in August 2010, but it has only carried out seven joint patrols, with limited success.
This includes the seizure of two tonnes of agarwood and 31 Mahseer Fish at a business premises operating at a jetty within the landscape. However, no prosecutions are known to have resulted.
The investigation course was helmed by a former senior police investigator with 20 years of experience working on serious crimes. The course aimed to close knowledge gaps and equip officers on the frontline with the confidence, skills and tools to fight wildlife crime. 
The 30 enforcement officers join the ranks of 2,500 others that received training from TRAFFIC on species identification, wildlife trade regulations and investigations since 2009.
---