TRAFFIC's Milliken receives top award for services to conservation
Cambridge, UK, 28th September 2015—Tom Milliken, TRAFFIC's Elephant and Rhino Programme Leader and the organization's longest serving staff member is among the recipients of this year's prestigious Sir Peter Scott Award for Conservation Merit.
---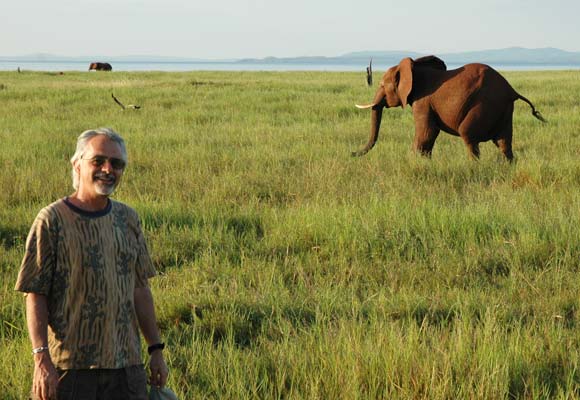 The Award was made in recognition of Milliken's unrelenting work in TRAFFIC and the Species Survival Commission (SSC) over three decades to understand and find solutions to the problems of illegal trade in ivory and rhino horn, including his exceptional leadership of the Elephant Trade Information System (ETIS).
Milliken established TRAFFIC's first office in Asia in Tokyo, Japan in February 1982, at a time when that country was regarded as world's largest wildlife trade market. Later he opened TRAFFIC's first regional programme office for East and Southern Africa in October 1991 and has resided in Africa ever since, working for TRAFFIC.
Accepting the Award, Milliken said: "I feel very honoured and think this probably represents the first time that wildlife trade monitors have been accorded such an award—on so many fronts it seems our work has never been more high profile and appreciated. Let's hope that this all translates into progress for the species we fight for in many concrete ways."
"I am also well aware that every individual award represents a team effort and I never would have received this Award if it wasn't for the terrific backstopping, encouragement and support from the TRAFFIC plus team around me throughout everything I've ever tried to do to support wildlife conservation."
The Sir Peter Scott Award for Conservation Merit is the most senior SSC Award, and dates back to 1984. It is presented to individuals in recognition of significant and long term service to conservation through their work with the SSC or associated institutions.
Other recipients of this year's Awards are: His Excellency Mohammed Al Bowardi, in recognition of his inspirational leadership of conservation in the United Arab Emirates over many years; Dr Holly Dublin, in recognition of her untiring commitment to species conservation in general and to the SSC in particular for over 30 years, including as Chair of the SSC and of the SSC African Elephant Specialist Group; Mr Widodo Ramono, in recognition of his lifetime's work to save the Javan and Sumatran Rhinos from extinction; Dr Mark Stanley Price, in recognition of his dedication to the SSC over four decades, including as the founder and first Chair of the Reintroduction Specialist Group; and Dr Simon Stuart, in recognition of his extraordinary contributions to species conservation through decades of generous and unparalleled service to the IUCN Species Survival Commission.
---