TRAFFIC helps poachers surrender in India
New Delhi, India, 4th December 2009—six hardcore poachers from north-eastern India have surrendered during a ceremony organized by TRAFFIC India on 26 November 2009 at Bansbari, Assam.
---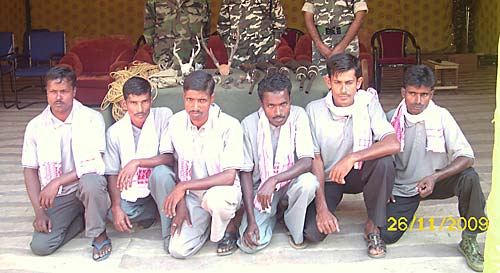 The poachers turned themselves in with six firearms, three deer antlers and two deer skins along with traps and nets to Sh. Khampha Bargayari, Dy Chief, Bodo Territorial Council (BTC). 
The poachers operated in and around Manas National Park and most were known to be active in the region. Between them they are said to have killed two Tigers, a Rhinoceros and three Asian Elephants in recent years. 
Their surrender is a boost to conservation effort in the region, where poaching is common place. In October 2009, three poachers were arrested, based on information provided to the Forest Department through an intelligence network established by TRAFFIC India. Two poachers were shot dead in Orang the same month. 
Earlier, apprehended individuals had indicated that active poachers in Kaziranga, Orang, Pobitaro and Manas were interested in changing their ways and surrendering if support for an alternative source of livelihood could be provided. 
This led to co-operation between TRAFFIC India and BTC to identify the relevant individuals, resulting in the recent surrender.
Sh. Khampha Bargayari, Dy Chief of BTC said at the surrender ceremony "In the coming year, BTC plans to budget a rehabilitation programme for the surrendered poachers where they will be provided employment at dairy farms and co-operative stores set up by BTC."
Mr Samir Sinha, Head-TRAFFIC India said, "We are hopeful that the surrender of these poachers will set a positive example for all others operating in the area. This is surely a step ahead in our mission to curb illegal wildlife trade.
"TRAFFIC India and WWF-India have been working with the Assam Forest Department on various conservation issues in the past and we hope our association with the department will help make significant contributions towards conservation of species in the wild." 
---