TRAFFIC helps protect Mexican wildlife
Mexico City, 23rd September 2008—TRAFFIC today presented USD30,000 worth of animal handling equipment to PROFEPA, the Mexican Government body responsible for protection of the environment. 
---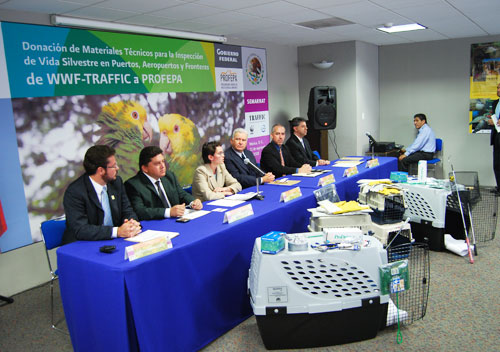 The new equipment will assist enforcement officers in Mexico in the implementation of CITES (the Convention on International Trade in Endangered Species of Wild Fauna and Flora), and is part of a wider agreement between PROFEPA and WWF, implemented through TRAFFIC, which is aimed at nationwide capacity building for enforcement officers to tackle illegal wildlife trade and ensure the sustainable use of natural resources. 
Deputy Prosecutor Gustavo Gonzalez, responsible for the Seaports, Airports and Borders Inspection Program, accepted the donation of equipment, which included leather protective gloves, animal transportation boxes, snake hooks and other tools for the safe handling of wildlife in trade. 
Adrian Reuter, Mexico Representative for TRAFFIC's North America programme commented; "TRAFFIC's partnership with PROFEPA is helping promote better conservation of Mexico's rich biodiversity and helping to stem the flow of illegal trade from South and Central America, which threatens wildlife elsewhere in the region."
"This equipment is urgently needed by Mexico's border inspectors to help them monitor and take appropriate action to control the wildlife trade through the nation's seaports and airports."
This donation is part of a USD300,000 three-year project supported by the United Kingdoms's Strategic Programmes Fund in partnership with TRAFFIC and involving the UK's embassy in Mexico City. 
TRAFFIC's work in Mexico is part of TRAFFIC's North America programme.
---