TRAFFIC helps effort to strengthen wildlife law enforcement in India
Mumbai, India, 14th January 2011—TRAFFIC in association with the Wildlife Institute of India this week held a two-day workshop on "Strengthening Wildlife Law Enforcement in India" aimed to bring enforcement officers up-to-date with the latest tools and techniques available to fight illicit wildlife trade and also to give them an overview of organized global wildlife crime.
---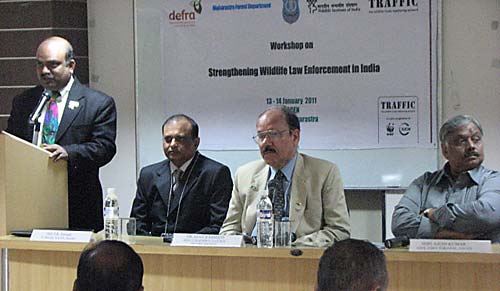 The workshop was inaugurated by Mr Ajesh Kumar, Additional Director General, of the National Academy for Customs, Excise & Narcotics (NACEN), and took place as part of a collaborative effort supported by the UK Government's Department for Environment, Food and Rural Affairs (Defra), under the UK-India Sustainable Development Dialogue between the Governments of India and UK.
Mumbai has excellent air, sea and land route connections, making it a key area through which illegal wildlife traders smuggle their goods, such as seahorses, shells and corals and other marine species, ivory, live birds and animals for the pet trade. 
Guest of Honour, Dr Asad R Rahmani, Director of the Bombay natural History Society, spoke of the important biodiversity of the Western Ghats and the high level of endemism found in various faunal groups such as stream dwelling fish, amphibians and birds. 
Dr Rahmani said that illegal wildlife trade not only threatens species by direct depletion of their populations but also due to accidental and intentional release of species which can hybridize with related endemic species, eroding their genetic stock.
Also attending the meeting were Mr T K Samant, Joint Director, NACEN, along with 20 participants from the forest department representing different wildlife and forest divisions of Maharashtra and 25 Custom officers from around the state.
During the meeting, Mr Ajesh Kumar, released the Hindi version "Musibat Na Mole Lein" of TRAFFIC-India's "Don't Buy Trouble" film, which educates people about the legal consequences of indulging in illegal wildlife trade. 
Those conducting workshop sessions included Mr Samir Sinha, Head of TRAFFIC India, Dr S P Goyal, a wildlife forensic expert and Prof. B.C. Choudhary, an expert on marine issues, both from the Wildlife Institute of India (WII) Dehradun, Ritwick Dutta, Advocate from the Hon'ble Supreme Court of India and wildlife and environmental expert, and Saurabh Sharma, Advocate from Delhi High Court and expert on wildlife laws.
During the workshop a wildlife forensic sample collection kit developed jointly by Wildlife Institute of India and TRAFFIC was distributed to participants. The customized kit will enable the field staff to collect samples for forensic analysis as per the prescribed protocols. Other resource materials provided to participants included CDs on various themes plus books and posters relating to wildlife law and enforcement issues.
---