TRAFFIC Canada and Environment Canada WED
Vancouver, Canada, 27th February 2009—TRAFFIC Canada and Environment Canada's Wildlife Enforcement Directorate (WED) have signed a memorandum of understanding (MoU) on co-operation between the two organizations on furthering the implementation and enforcement of wildlife trade regulations in Canada. 
---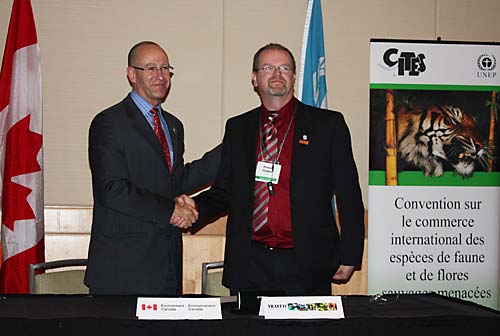 It is the first such agreement between the WED and a non-governmental organization (NGO) and the signing was witnessed by delegates to the CITES (Convention on International Trade in Endangered Species of Wild Fauna and Flora) e-commerce meeting that included representatives from CITES Parties, the CITES secretariat, INTERPOL, World Customs Organization, Royal Canadian Mounted Police, Fisheries and Oceans Canada and Canada Border Services Agency (CBSA). 
Collaboration between TRAFFIC and Environment Canada to assist with capacity building has previously been on an ad hoc basis, but the MoU will allow resources to be pooled and collaborative structures to be established. 
The new agreement with help reduce illegal and unsustainable wildlife trade through better implementation and enforcement of CITES regulations and improved monitoring of trade trends and emerging priorities through joint compilation and analysis of wildlife trade data. 
The two organizations will also undertake joint activities to raise awareness of wildlife trade related issues, to share technical expertise, and to undertake training for enforcement personnel. 
"TRAFFIC and WED's close co-operation will have a significant impact on regulating wildlife trade in the region, and we look forward to a blossoming and productive partnership," commented Ernie Cooper, Canadian National Representative, for TRAFFIC North America.
Environment Canada described the signing of the MoU as a milestone in increasing collaboration with key partners and in demonstrating its commitment to working with NGOs.
---