Timber Import in Viet Nam: paving the way towards Sustainable forest management and responsible timber trade
Quy Nhon, Viet Nam, August 2022 –  TRAFFIC is helping businesses from the timber sector to ensure their imported materials and exported products are legal by connecting representatives and law enforcement agencies.
---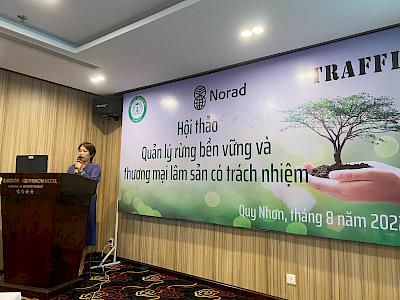 In August 2022, TRAFFIC, the Viet Nam Administration of Forestry (VNFOREST) and The Forest Products Association of Binh Dinh (FPA Binh Dinh) organised two workshops as part of the 5-year project Leveraging legality of China's timber supply to reduce deforestation (NORAD project), with 70 participants from the forestry and law enforcement sectors in Binh Dinh province, Quy Nhon.
By working with the private sector and enforcement agencies, the NORAD project through TRAFFIC's work will enable the private sector to comply with legal requirements and work with authorities to ensure appropriate procedures are respected. With this approach, we can target illegal trade while allowing legal trade to flow efficiently."
Ms Nguyen Tuyet Trinh, TRAFFIC Viet Nam Office Director
Viet Nam, a significant transit/manufacturing hub of wood products and in the top 10 global exporters of furniture, is also a large importer and transit country of timber. To ensure Viet Nam's timber trade can be certified as legal and sustainable, the forestry sector and law enforcement agencies must understand the legislation and build in capacity to verify the legality of timber products.
"Viet Nam's timber sector is increasingly developing its market to 120 countries and territories, leading to strict requirements for legal timber and sustainable forest management. It is necessary to improve the capacity of management agencies and enterprises, to ensure that the timber imports are legal and legitimately sourced," said Mr Nguyen Van Dien, Head of Department of Forest development, VNFOREST
The first day of the workshop provided customs, forestry officers and private sector representatives with updates on timber regulations, what is considered sustainable forest management, how to verify the legality of imported timber and implement Forestry Law in compliance with the Viet Nam Legal Timber Assurance System.
Participants also gained insight into how to bolster relationships between forest owners and timber processors to ensure a consistent supply of timber that is verifiably legal.
"In Binh Dinh, the market for raw materials is facing a lack of resources and difficulties in logistics. Adopting a market linkages strategy will help businesses to stabilise production by providing a secure and stable source of wood", explained a representative of Phu Tai enterprise.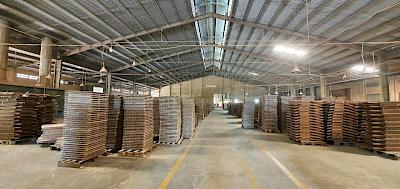 Another significant element included participants visiting a timber product enterprise in Binh Dinh Province to understand firsthand the difficulties in implementing relevant laws and timber trade regulations. Private sector enterprises face legal and reputational risks when importing timber as they cannot always verify timber legality or understand the management, harvesting, processing, export conditions and requirements of Congo Basin countries.
To help businesses to address this issue, TRAFFIC consulted private sector experts to draft a Code of Conduct (CoC) on verification of timber's legality by local timber companies. The CoC will provide the enterprises with appropriate knowledge on how to facilitate and ensure legal trade to and from other project countries, including China, Congo, and Cameroon.
"Official information from wood exporting countries to Viet Nam is essential for businesses, but they often have difficulty accessing it. We highly appreciate the work conducted under TRAFFIC's project that gives the businesses capacity to investigate the legality and sustainability of the raw material they purchase", said Mr Cao Chi Cong – Deputy Director of Viet Nam Association of timber and timber products (VIFORES).
This consultancy workshop was the first of a series of monthly meetings until the finalisation of the CoC at the end of 2022.
---
About Norway's International Climate and Forest Initiative (NICFI):
NICFI supports efforts to reduce greenhouse gas emissions resulting from deforestation and forest degradation in developing countries through efforts to improve forest and land management in tropical forest countries and reduce the pressure on tropical forests from global markets.