The power of unity: Regional TWIX workshop strengthens East African wildlife law enforcement
Nairobi, Kenya 30 August 2023. TRAFFIC convened a two-day regional workshop that united East African law enforcement officials from Djibouti, Kenya, Uganda, and Tanzania (including the archipelago of Zanzibar). The event focused on the Eastern Africa Trade in Wildlife Information eXchange (Eastern Africa-TWIX), an innovative online tool developed to facilitate the exchange of information and foster collaboration among East African law enforcement agencies.
---
33 dedicated law enforcement officials participated in the event, representing an array of government agencies, including customs, wildlife, forestry, public prosecutors, police, Interpol and regional bodies such as the East African Community (EAC), the Intergovernmental Authority on Development (IGAD), and the Horn of Africa Wildlife Enforcement Network (HAWEN).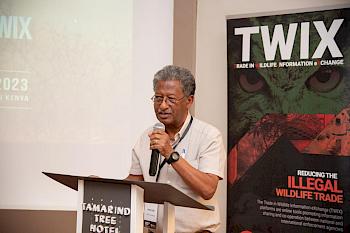 During the workshop's official opening, Mr Elema Saru, Head of Investigation, speaking on behalf of the Director General of the Kenya Wildlife Service (KWS), emphasised that the fight against Illegal Wildlife Trade (IWT) hinges on the power of sharing of actionable, reliable information. He hailed the Eastern Africa - TWIX platform as a beacon of hope, uniting law enforcement agencies in their relentless pursuit to dismantle transnational wildlife trafficking networks.
Experienced users of Eastern Africa - TWIX from Tanzania, Kenya, and Uganda shared their success stories, highlighting the platform's significant impact on their anti-IWT efforts. They specifically mentioned how email exchanges on IWT trends, species identification guides, and training materials have been invaluable assets in their enforcement actions.
Dr Taye Teferi, the Acting Senior Regional Director for Africa at TRAFFIC, stated the purpose of the regional TWIX workshop is to strengthen cross-border cooperation in combatting IWT in the Horn of Africa. The workshop ensured that Djibouti's officials learnt and acquired experience of TWIX usage from their counterparts in Kenya, Tanzania, and Uganda. This strategic move followed an earlier scoping mission conducted in Djibouti.
Wildlife crime is a transnational organised crime that cannot effectively be addressed by one country alone. Joint cross-border cooperation and information sharing facilitated by the Eastern Africa- TWIX platform is paramount"
Dr Eshete Dejen, Programme Manager at IGAD Secretariat.
As the workshop drew to a close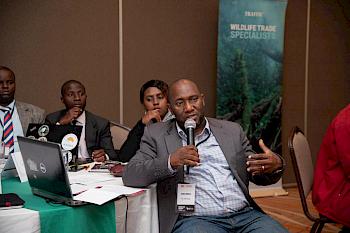 , participants developed and endorsed key recommendations to strengthen the Eastern Africa TWIX platform going forward. These included expanding the platform's membership to more countries and fast-tracking the establishment of the Eastern Africa – TWIX Advisory Group to implement measures for the tool's sustainability.
Law enforcement officials and TWIX users pledged active engagement with the Eastern Africa - TWIX platform, agreeing to share real-time, non-nominal information, like seizures, and utilize the TWIX website's manuals, identification tools, and shared experiences from colleagues. Continued support for the platform's implementation was strongly recommended to enable capacity building and foster a robust and highly effective 'TWIX Community of Practice' and platform.
---
Notes:
The workshop was made possible with funding from the U.S. Government Department of State through 'Closing Loopholes along the Trade Chain: Strengthening East Africa's Front-line Wildlife Law Enforcement in Combatting Illegal Wildlife Trade' project.
---