Sweden stamps out illegal caviar
Cambridge, UK, 3rd March 2009—Enforcement action against illegal caviar traders in Sweden is paying dividends, with just two tins of illicit caviar discovered by County regulators between 2006 and 2008, and the conviction in December 2008 of the two retailers for illegally selling caviar. They were fined a total of SEK22,200 (USD2,500). 
---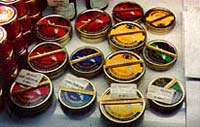 The clampdown on illegal caviar in Sweden began in 2005, mainly in Uppsala and Stockholm. In November, 21 tins of osetra, sevruga and beluga caviar were confiscated in Uppsala. In court, it was revealed the caviar had come from Estonia via Finland and was half the normal price and lacked appropriate documentation. 
In Gothenburg the same month, police confiscated 12 tins of caviar from three different retailers, who were similarly unable to produce the correct documentation. All were subsequently convicted of selling illegal caviar and fined a total of SEK11,400 (USD1,300). 
The cases attracted high media attention, with fish retailers claiming they were unaware of the legislation. Subsequently, the relevant Swedish trade association contacted its members to inform them about the rules covering the caviar trade. 
"Thanks to the authorities and the high profile media coverage, fish retailers and traders in Sweden are all aware of the regulations concerning caviar, and the illegal trade has been reduced significantly," commented Mats Forslund, TRAFFIC Europe's representative based in Sweden.
---