Stiffer penalties sought for wildlife criminals in Thailand
Pattaya, Thailand, 28th July 2010—More than 30 senior judges and prosecutors, plus senior officers from the Royal Thai Police, Royal Thai Customs, and the Department of National Parks, Wildlife and Plant Conservation begin a three-day meeting today to examine how to deal more effectively with wildlife crime in the region.
---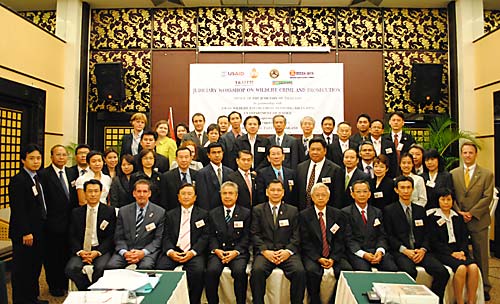 South-East Asia is a major hub for illegal wildlife trade. In recent few weeks there have been a number of large wildlife seizures in the region, including a haul of over three quarters of a tonne of illegal ivory seized at Bangkok's Suvarnabhumi International Airport. 
However, it is common for those convicted of wildlife-related offences to walk away with minor penalties and in some cases continue with their illegal activities. 
In response, law enforcement officers have been appealing for stiffer penalties and higher rates of prosecution to help ensure that the penalties meted out deter the wildlife criminals and wildlife crime. 
The ASEAN Wildlife Enforcement Network (WEN), an integrated network of law enforcement agencies in the region, has therefore made it a priority to increase the awareness of judges and prosecutors of the seriousness of wildlife-related crime. 
Speaking at the launch, Mr Manop Lauprasert, Senior Officer of the ASEAN-WEN Program Co-ordination Unit, described the Pattaya meeting as "an important step by the Judicial Sector of Thailand to support enforcement agencies in the fight against organized wildlife crime," adding that the meeting would "help raise the profile of illegal wildlife trade among the judiciary and ensure that illegal actions do not go unpunished." 
During the three day meeting, participants will examine existing Thai legislation such as the Wild Animal Reservation and Protection Act and draft Elephant Act, identify potential weaknesses and loopholes in the existing legal system, and look at the role forensic science can play in strengthening wildlife crime cases brought before the courts.
Illegal wildlife trade is increasingly viewed as a serious transnational crime and Senior Prosecutors from the United States Department of Justice will be attending too. 
The Pattaya meeting is organized by the Office of the Judiciary of the Kingdom of Thailand, in co-operation with the ASEAN-WEN Program Coordination Unit and TRAFFIC Southeast Asia, under the United States Agency for International Development (USAID) funded ASEAN-WEN Support Programme. 
TRAFFIC and FREELAND Foundation provide technical assistance to ASEAN governments through the ASEAN-WEN Support Program, via a co-operative partnership with USAID.
---