Organisations Celebrate The Tenth Batch: Six More Wildlife Sniffer Dogs Will Strengthen Wildlife Protection In India
India's wildlife sniffer dog force gets new recruits as six trained wildlife sniffer dog squads finished their training under TRAFFIC and WWF-India's wildlife sniffer dog training programme on 1 April 2023. 
---
Back in September 2023, six German Shepherds dogs, ranging from six to nine months old, and their 12 handlers began their seven-month training at Basic Training Centre, Indo-Tibetan Border Police Force (BTC-ITBP) camp in Panchkula.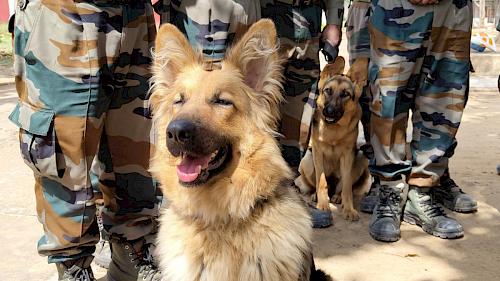 Haryana. Now they have passed their training and will now join the forest departments of Karnataka (4), Bihar (1), and Madhya Pradesh (1), taking the total number of wildlife sniffer dogs trained under TRAFFIC and WWF-India's programme in India to 94.
BTC-ITBP had organised a passing out ceremony to felicitate the dogs and their handlers in their successful completion of the training course. The dogs also demonstrated their newly learned skills at this event. 
Mr Ravi Singh, Secretary General & CEO WWF-India, said, "Dogs are not just man's best friend. Once trained as wildlife sniffer dogs, they play a crucial role in protecting our wildlife from crime and illegal trade. This is also true for the 94 wildlife sniffer dogs trained by WWF-India and TRAFFIC over the years. We wish our programme's new and 10th batch good luck and hope they can strengthen and support wildlife protection initiatives."
Dr Merwyn Fernandes, Coordinator of TRAFFIC's India Office, said, "Illegal wildlife trade is a serious threat to the conservation of species in the wild. Wildlife law enforcement practices are critical in containing this threat, and the use of wildlife sniffer dogs for wildlife crime prevention and detection is crucial. In light of this, TRAFFIC and WWF-India launched the pioneering wildlife sniffer dog training programme in 2008. We hope at least four to five wildlife sniffer dogs are deployed in each state and at transborder areas, working with law enforcement agencies to protect our wildlife."
Dr Dipankar Ghose, Director & HoD, Wildlife & Habitats Division, WWF-India, and Interim In-Charge, TRAFFIC's India office adds, "Detecting smuggled wildlife is an ongoing challenge for law enforcement agencies. TRAFFIC and WWF-India support initiatives that bring in new tools and technology for wildlife crime detection and prevention. Training sniffer dogs for wildlife crime prevention was a step in this direction. So far, the dogs have been deployed by the State Forest Departments and Railway Protection Force. We hope this programme will be institutionalised and adopted by other law enforcement agencies".
Mr Ishwar Singh Duhan, Inspector General, ITBP, Director, NTCD&A (National Training Centre for Dog & Animals), Panchkula, said, "The new batch of six dogs and their handlers have shown immense commitment over the past seven months. Besides learning detection skills, the dogs have undergone obedience training crucial to becoming wildlife sniffers. The dogs have been trained to detect tiger and leopard skins, bones and other body parts, bear bile, red sanders, and other illegal wildlife products. We are sure they will adapt their skill sets to include other wildlife contraband once deployed in the field. BTC-ITBP wishes them good luck".
The training of the tenth batch of six dogs at ITBP started on 5 September 2022 and ended on 1 April 2023.
---