Reptile and amphibian reporting needs tightening: new study
Cambridge, UK, 30th March 2011—Wide discrepancies in the numbers of live reptiles and amphibians reported in the pet trade to Thailand indicate misreporting or deliberate violation of international trade rules, according to a paper just published in PLoS One. 
---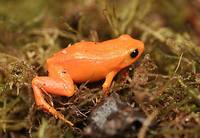 Authors Vincent Nijman of Oxford Brookes University and Chris R. Shepherd of TRAFFIC Southeast Asia examined how records supplied to the Convention on International Trade in Endangered Species of Wild Fauna and Flora (CITES) on the commercial trade in reptiles and amphibians exported to Thailand between 1990 and 2007 reflected changes in trends, species composition and numbers of wild-caught versus captive-bred specimens. 
The study's most startling find was that Thailand reported the import of more than 10,000 captive-bred, live individuals (of 51 species) originating from Kazakhstan between 2004 and 2006, yet Kazakhstan reports no direct exports of these species to Thailand. 
The exports included 2,700 frogs, 4,078 chameleons, 700 lizards and 2,600 tortoises. 
There were similar discrepancies, although involving much smaller numbers, with the reported import of reptiles into Thailand from Macao. 
"Such discrepancies either indicate a high degree of misreporting or possibly violations of the rules and intentions of CITES," said Nijman. 
Nijman points out that the bulk of captive-bred specimens imported into Thailand were from Kazakhstan and Lebanon. 
Lebanon is not a signatory to CITES and all exports of captive-bred reptiles and amphibians from Kazakhstan to Thailand were either re-exported via Lebanon or Macao—a Special Administrative Region of China, hence not itself a Party to CITES. 
"The capacity for facilities in Lebanon to produce the claimed number of captive-bred tortoises in trade has previously been called into question, and it appears the same concerns apply to the trade in captive-bred amphibians and reptiles too," said Shepherd. 
"These findings should be setting off alarm bells among CITES authorities. The findings call for intense scrutiny into the global trade of reptiles and amphibians declared as captive-bred."
According to the study, The role of Thailand in the international trade in CITES-listed live reptiles and amphibians, between 1990 and 2007, Thailand imported 75,594 individuals of 169 species of reptiles and amphibians, 27 of them globally threatened species. Four out of every five animals was listed as captive-bred. 
Wild-caught individuals were mainly sourced from Africa, particularly Madagascar, and included hundreds of Endangered and Critically Endangered species such as Golden, Blue-legged and Green Mantella frogs. 
The authors found a rapid increase in both numbers of reptiles and amphibians and the species diversity imported into Thailand after 2003, plus wide variation in the proportion of captive-bred animals reported—varying between zero and 80% some years—and significant discrepancies between exports and imports. 
Thailand was chosen for the study because of its role as a key hub in the global wildlife trade, importing reptiles from Africa and South Asia for onward distribution within South-East Asia and East Asia. The ever increasing role of South-East Asia in the global pet trade has been attributed at least partly to the rising affluence in the region.
---