Red Sanders Red Alert
New Delhi, India, 23rd December 2009—A series of seizures of Red Sanders, a valuable timber species native to southern India have taken place in the past 48 hours, and indications are that smugglers are getting increasingly more sophisticated in transporting the valuable timber out of India. 
---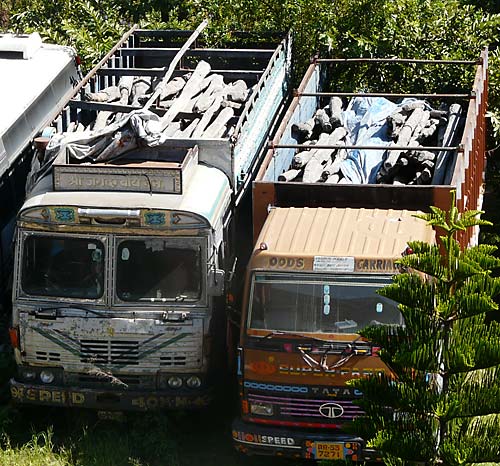 According to media reports, more than 50 tonnes of Red Sanders logs were seized on 22 December in Leh, in the far northern State of Jammu and Kashmir, where it was en route to China. One person has been arrested with more arrests expected. 
Further reports state that in the Punjab, almost 11 tonnes of the valuable timber have been seized, with follow-up action netting a further 26 tonnes of Red Sanders from Delhi in recent days. Almost 5 tonnes of Organ Pipe Corals were recovered during the same operation, which has seen five arrests to date. Meanwhile, in Dimapur, in the far north-eastern State of Nagaland, close to the borders with Myanmar and China, Forest Department staff seized a truckload of the valuable timber on 22 December. 
"It is evident from the spate of seizures taking place that smugglers of Red Sanders are operating on a massive scale and are running highly organized international smuggling rackets," commented Samir Sinha, Head of TRAFFIC India. 
Red Sanders Pterocarpus santalinus is endemic to the southern parts of India's Eastern Ghats, mainly the State of Andhra Pradesh. 
Today the wood, also known as Red Sandalwood, is in great demand in China and Japan, where it is used to make furniture and carvings as well as medicines. In India it is used to make a dye. 
Preliminary research by TRAFFIC suggests that while the use of the rare timber for furniture may be the most significant driver of recent Red Sanders smuggling, off-cuts from the furniture industry are then sold on into the traditional medicine trade.
However, the tree species has been heavily overexploited and its export, except in special circumstances, is prohibited under India's Foreign Trade Policy. It is also protected under the Red Sanders and Sandalwood Transit Rules of Andhra Pradesh Forest Act, 1967 and international trade is controlled through the listing of Pterocarpus santalinus in Appendix II of the Convention on International Trade in Endangered Species of Wild Fauna and Flora (CITES). 
According to their latest annual report, India's Directorate of Revenue Intelligence (DRI) made 15 Red Sanders seizures in 2008–2009. This was slightly down from just over 20 in each of the years since 2005 when the largest total seized was 466 cubic metres of logs in 2005–2006.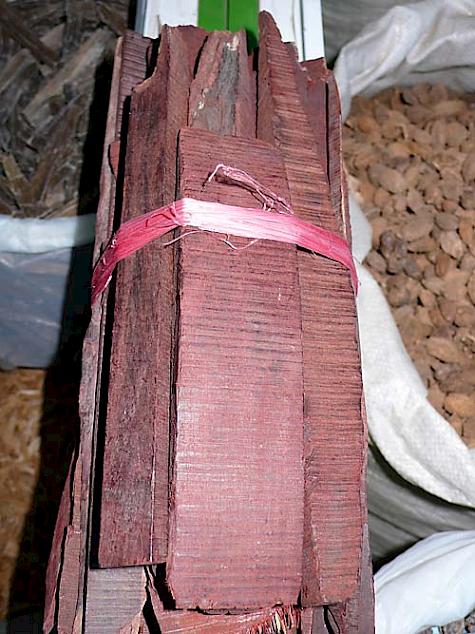 Smuggling attempts uncovered often involve the concealment or misdeclaration of the timber in shipments as everything from jute bags to zinc oxide to mustard oil cake and even salt. 
Logs have often been intercepted being transported by road from India to China via Nepal. 
Since 2006, almost 1000 tonnes of Red Sanders has been recovered from near various Customs and border posts across India, including the Indo-Nepal border. On the Nepal side, over 400 tonnes of the wood has been seized during the same period, almost all of it destined for China.
However, other overland smuggling routes are becoming apparent. In October 2009, a consignment of around 2000 logs was intercepted by DRI officers near Aizawl, in north-eastern India, believed to be en route to China direct from India. Six Chinese nationals were arrested at the scene. 
Elsewhere in north-eastern India, according to media reports, at least 100 tonnes of Red Sanders have been seized in Manipur and Mizoram since August 2009, and 600 tonnes seized by the forest department in transit in Dhubri and Burdawan. 
According to the DRI report, in 2008–2009, on five occasions the DRI seized shipping containers with Red Sanders en route to Dubai, and in two cases each it was to UAE and Malaysia. However, a recent seizure finds criminals getting more sophisticated in getting the wood aboard ships to be smuggled out of India. 
In November 2009, two clearing agents at Chennai port were arrested in a case involving 32 tonnes of Red Sanders logs. The men were said to have used the name of their regular export clients—who were unaware of the scam—and made duplicate shipping bills, complete with the signatures of all Customs officials concerned. They forged rubber stamps and even duplicated the time locks used by Customs to seal export containers meant to ensure their authenticity. The cargo was then cleared by the agents and loaded onto ships and cleared for export without any Customs check. In December 2009, part of the same consignment was uncovered after DRI officials recalled a container destined for Dubai and discovered 339 Red Sanders logs weighing 9 tonnes aboard. 
"We are seeing several changes to the nature and scale of the illicit trade in Red Sanders," said Sinha.
"For example, logs are being transported via different routes overland and are being shipped to the Middle East, although whether this is to markets in that region or it is just being used as a transit point, remains to be seen. 
"The DRI are to be congratulated for their diligence in uncovering these smuggling routes and techniques, but as well as stopping the smuggling in India, we urgently need to find out more about what can be done to control the drivers of the Red Sanders demand in China, Japan and elsewhere."
---