Pythons, lorises and a monkey seized at Bangkok airport
Bangkok, Thailand, 11th July 2012—Lorises appear to be the preferred target of wildlife traffickers, turning up in markets around the South-East Asian region and in seizures—including the dozen found in a traveller's suitcase at Suvarnabhumi International Airport this morning.
---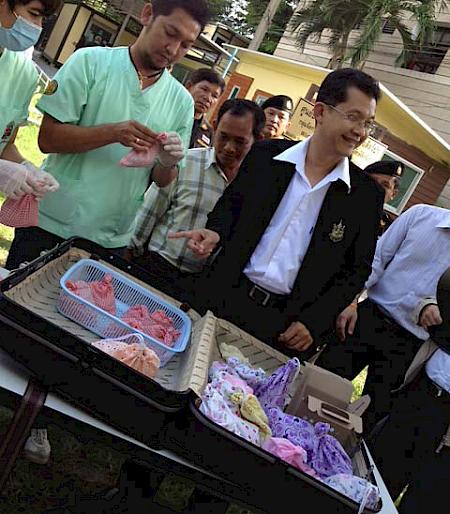 Authorities at Thailand's largest and busiest airport found the lorises stuffed in cloth bags inside the suitcase of a Kuwait bound traveller, who was also carrying 11 pythons and one marmoset in her luggage.
Alert officers at the luggage-scanning counter of the airport noticed something odd about the x-ray images of the woman's bag and found the animals when they opened it for examination.
As a downside of their cute, wide-eyed appeal, slow lorises are in high demand as pets not only in Southeast Asia but globally.  The trade is ongoing in spite of a worldwide ban on international commercial trade that has been in place since 2007.
A local daily reported on Monday that Thai police in the beachside resort town of Patong arrested two men and confiscated three lorises that were being offered to tourists for photographs.
Despite strong legal protection in the countries where they occur naturally, and protection under the Convention on International Trade in Endangered Species of Flora and Fauna (CITES), lorises are openly sold in many markets and on Internet pet forums, indicating weak enforcement and little fear of the law.
Thailand is not the only country in Southeast Asia where the illegal trade of slow lorises is a concern.  Last month, TRAFFIC researchers observed 55 Slow Lorises for sale in two markets in Jakarta, Indonesia, including three Endangered Javan Slow Lorises. 13 were seen in Barito Market, and 42 more in Jati Negara market. 
In Thailand, the Deputy Director General of National Parks, Wildlife and Plant Conservation Department, Theerapat Prayulsit estimates that from October 2011 to July this year, authorities have rescued 12,332 wild animals from wildlife traffickers and arrested 13 people in connection with wildlife trade related offences.
Speaking at a press conference today, he said the list includes Tigers, pangolins, marmosets, snakes, turtles, bears, birds and primates like the lorises found today.
The woman caught attempting to smuggle the lorises out of the country has been detained for questioning by the Natural Resources and Environmental Crime Suppression Division of the Royal Thai Police.
"TRAFFIC congratulates the Thai authorities on this seizure. We also urge them to remain vigilant.  At a broader level, more must be done throughout Southeast Asia, to quell the insatiable demand for slow lorises," said TRAFFIC Southeast Asia Regional Director William Schaedla.
"Effective enforcement and successful prosecutions are crucial to the protection of such species.  The fact that so many are openly for sale illustrates a lack of commitment on the part of the authorities."
 "Without better co-ordination and market closures, lorises will end up going the way of so many other species threatened by illegal wildlife trade," he added.
---