Primates for medicine, anti-snaring in Malaysia, and a review of the London Conference covered in the latest TRAFFIC Bulletin
Cambridge, UK, 1st November 2018—reflections on the London Conference, insights into the emerging trade in threatened species of freshwater turtles, and a review of the UN's efforts towards sustainable wildlife management are among the topics covered in the latest TRAFFIC Bulletin, released today.
---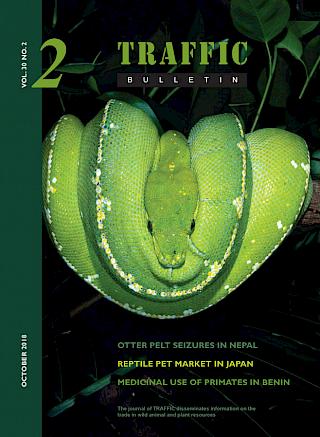 Now in its 30th volume and still available free of charge, the TRAFFIC Bulletin remains the only journal dedicated exclusively to the latest international wildlife trade issues and associated conservation concerns.
Sabri Zain, TRAFFIC's Director of Policy, introduces the latest edition with an editorial analysis of the recent London Conference, which saw representatives from 60 governments converge to strengthen international responses to the growing threats from wildlife crime and illegal trade.
Multi-lateral commitments, including progress on strategic areas dealing with behavioural change, illicit financial flows, and the threats from cybercrime are a positive step forward, but much remains to be done before strong words translate to tangible action for wildlife and people.
Other topics covered include the illegal trade in otter pelts in Nepal, its location and porous borders providing opportunities for pelts from neighbouring countries to be transported to markets in China; the emerging international trade in lesser-known and vulnerable species of Southeast Asian freshwater turtles; and an analysis of the reptile pet market in Japan based on market surveys, which uncovered the sale of a number of threatened species.
Another report provides insights into the perspectives of a small group of medical students on the use of wildlife products in traditional medicine (TM) in Viet Nam which confirms that, while the use of threatened and/or illegal fauna products may be embedded in TM practices, most students – future practitioners in the country – reported that they were against the use of protected wildlife species for TM, except in instances of prescribing such medicine to friends and family.
Southeast Asian wildlife in rainforests across the region is under threat from a burgeoning number of illegal snares. Crude, homemade traps made from cheap cables and wires are being indiscriminately set across the forest floor, killing or maiming already threatened species such as tiger and bear, as well as other wildlife unfortunate enough to cross their path. A short report in this issue reviews the efficacy of an anti-snare campaign in Malaysia a year after its launch.
Embedding sustainable wildlife management and the provision of alternative livelihoods into wildlife legislation has been at the heart of many recent conservation objectives. Another report in this edition examines efforts by the United Nations Food and Agriculture Organization (UN FAO) towards this end, analysing the management of the wild meat sector in Central Africa, as well as the wider successes of the FAO's global Sustainable Wildlife Management Programme.
In southern Benin, primates are commonly used in traditional medicine for both curative and spiritual purposes. With many primate species ranked among the world's most persecuted animals, another paper provides an overview of Benin's use of primates for medicinal purposes, and assesses the potential impacts of such trade on the conservation status of the species involved.
Download Volume 30.2 of the TRAFFIC Bulletin for the full list of analysis, short reports, prosecutions and seizures, or browse by selected articles below.
We work hard to keep the Bulletin open source and available free of charge as the issues we cover are among some of the most pressing conservation topics of our time. You can support our work to keep the Bulletin free and help us get it into the hands of those able to bring about lasting change for wildlife. Visit our support page to make a contribution.
---