Power of "Chi" shines in the Thua Thien Hue business community
Hue, Viet Nam, 2nd May 2016—More than 150 leading businessmen in Thua Thien Hue province, Viet Nam, responded to a national campaign to protect wildlife and the environment during yesterday's Chi Bike Ride, one of the highlights of the International Hue Festival 2016. 
---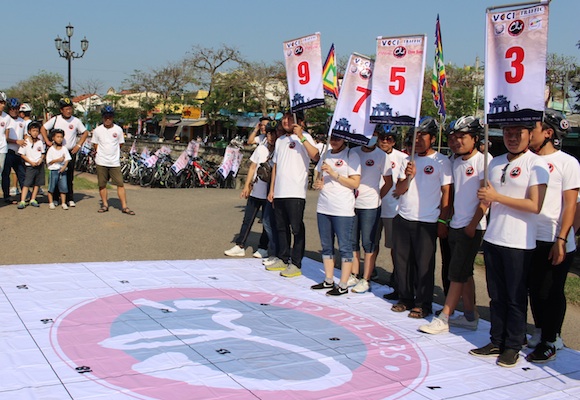 The Chi Bike Ride, organized jointly by the Vietnam Chamber of Commerce and Industry—Da Nang Branch (VCCI Da Nang), the Thua Thien Hue Business Association, and TRAFFIC, marks the commitment of the Thua Thien Hue Business Community to protect the environment through incorporating a zero-tolerance of illegal wildlife consumption into their personal and professional conduct. 
The bike ride supports TRAFFIC's nation-wide Chi Campaign to address the illegal trade and consumption of rhino horn in Viet Nam. The campaign, based on the Vietnamese concept of "chi," or "will," promotes the idea that success, respect and good fortune come from a person's inner strength, not from a piece of rhino horn. 
"Viet Nam's role in the globalizing economic and political arena is rapidly growing. Guided by our 'chi,' the business community can honor our strong cultural heritage while developing and integrating international norms of environmental and wild animal protection into our personal and professional lives to improve the reputation of the Vietnamese business community nationally and globally," said Mr. Nguyen Cuong, Director of VCCI – Da Nang Branch.
Five business owners at the event have already shown they have the "chi" to be leaders in corporate social responsibility (CSR) by committing to incorporate wildlife protection, environmental protection and zero-tolerance of illegal wildlife consumption into their codes of conduct and internal communication channels. 
Coca Cola was among the businesses supporting the bike ride event. 
"One of Coca-Cola's primary objectives is creating positive change in the community. After learning how illegal wildlife trafficking and consumption in Viet Nam threatens national security and harms societies and ecosystems here and around the world, we recognize our responsibility as a community leader to be a role model in environmental action," said Mr Nguyen Van Hai, Director of Coca-Cola Da Nang. 
"There is a lot of work to be done to slow the alarming rate of biodiversity loss and climate change, and I will encourage my colleagues at Coca-Cola, members of EKOCENTER Da Nang, my friends and family to join me in this important work."
n addition to equipping companies with the tools to incorporate wildlife protection into their business practices, the event also provided all festival attendees with a deeper knowledge of the effects of wildlife trafficking.  
"I feel proud to be part of this bike ride, which I think has been a very meaningful and influential event in Hue. As a rider, I was able to carry a message about wildlife protection through my city to help educate my fellow citizens about our role in protecting the environment and wild animals. I hope the messages we riders carried on our bikes and the educational street banners being throughout the festival will encourage members of the public to take action," said Mr Tran Quang Hao, Managing Director of Hue Tourist Company.  
Held from 29th April – 4th May, the Hue Festival 2016 celebrates the 710th anniversary of the founding of Thuan Hoa – Phu Xuan (now Thua Thien Hue). Organized every four years in the World Heritage City of Hue, this year's event marks the ninth edition of the festival and features cultural, artistic and touristic events to celebrate the international exchange of ideas. 
---