Philippines makes its largest tortoise and freshwater turtle seizure on World Wildlife Day
Manila, Philippines, 5th March 2019 – Heavily trafficked and a candidate for heightened protection at the upcoming World Wildlife Conference, the Indian Star Tortoise has appeared among 1,529 tortoises found in abandoned luggage in the Philippines.
---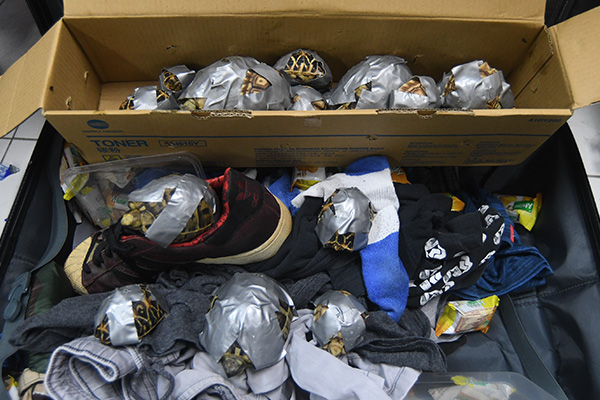 The Indian Star Tortoise Geochelone elegans was discovered alongside African Spurred Tortoise Centrochelys sulcata, Red-footed Tortoises Chelonoidis carbonarius and Hermann's Tortoise Testudo hermanni and several other tortoise and freshwater turtle species, in four bags seized by the Bureau of Customs (BOC) at Ninoy Aquino International Airport's Terminal 2 on Sunday.
The BOC said the bags arrived on a flight from Hong Kong and were found unclaimed in the terminal arrival area.
The Indian Star Tortoise is considered to be the single most seized species of tortoise in the world in 2016 and illegal trade is the greatest threat to their survival in the wild. From 2016-2018 alone, at least 14,399 individuals were seized from illegal trade globally. The tortoise has since been proposed for a greater level of protection from international commercial trade.
Native to and banned from any collection or trade in India, Pakistan, and Sri Lanka, the species has been proposed by India to be transferred from CITES* Appendix II to I. If passed by the 18th Conference of the Parties to CITES this May, international commercial trade will be banned globally.
The species' current listing on Appendix II of CITES allows regulated commercial international trade. However, loopholes exist in some key trade and consumer countries that do not effectively regulate trade in non-native CITES-listed species like the Indian Star Tortoise.
Tortoises and freshwater turtles like those seized in the Philippines are under threat from trafficking to feed the global demand for exotic pets.
Philippines Customs is congratulated for stopping this illegal shipment from entering its market. None of the turtles found are native to Hong Kong and could have been sourced from all corners of the globe
Kanitha Krishnasamy, Director for TRAFFIC in Southeast Asia.
"Clearly, the seizure needs further scrutiny as does the Hong Kong-Philippines wildlife smuggling route," said Krishnasamy.
The route has previously seen smuggling attempts, including for freshwater tortoises and turtles. 
In February 2012, a Chinese national was arrested at Hong Kong International Airport with 20 Critically Endangered Philippine Forest Turtles, 16 Southeast Asian Box Turtles, 24 lizards, 16 pythons, one gliding snake, two Mangrove Snakes, and a Common Mock Viper seized from his luggage.
The same smuggler was arrested again in June the same year and authorities recovered 43 Philippine Forest Turtles, 46 Southeast Asian Box Turtles, 19 Mindanao Water Monitor Lizards, and one Reticulated Python from his bag at the same airport.
In July 2012, the Philippine Bureau of Fisheries and Aquatic Resources (BFAR) intercepted eel fingerlings contained in 332 plastic bags, with 5,000 fingerlings in each bag, on a flight bound for Hong Kong.
Most recently, in October 2018 the Philippine BOC seized 250 live geckos shipped from Hong Kong to the Cargo warehouse near the Ninoy Aquino International Airport Terminal 1.
Apart from closer monitoring of the route, TRAFFIC also urged the authorities to investigate the markets within the Philippines that may be driving the demand for the tortoises as exotic pets and encouraging illegal trade.
---
Notes:
*CITES is the Convention on International Trade in Endangered Species of Wild Fauna and Flora
---