Pangolin seizure highlights Malaysia—Thailand smuggling route
Kuala Lumpur, 21st March 2012—Wildlife authorities arrested two men and seized 18 pangolins from a vehicle near a protected area in the northern state of Perak in Peninsular Malaysia on Saturday.
---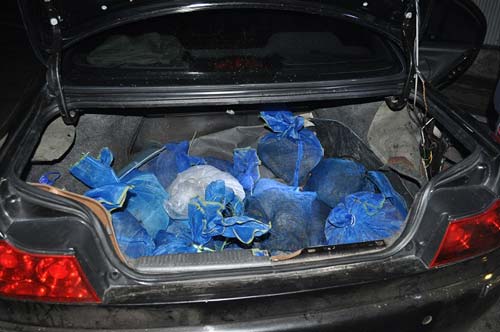 The seizure and arrests were made along the East-West highway that divides the Belum Royal State Park from the Temengor Forest Reserve and is the second to take place in this area in the last six months. 
In November last year, authorities found 12 pangolins in the boot of a car belonging to two local villagers travelling along the same highway, headed towards the Malaysia-Thailand border.
In Saturday's incident, officers from the Perak State Wildlife and National Parks Department in Ipoh and Gerik were on patrol along the highway in the early hours of the morning when they were overtaken by a vehicle. 
The officers gave chase after one of them recognized the vehicle's registration number as that belonging to a known poacher.
Officers finally apprehended those in the car at a petrol station near Gerik. The pangolins were found tied up in bags in the boot of the car. A 13-year-old boy found in the car was released.
Though small-scale, the seizure and arrests are significant in light of the trafficking routes between northern Malaysia and southern Thailand. 
Reports of seizures show that at least 445 pangolins have been confiscated from traffickers in the northern states of Malaysia since February 2010. In total at least 1,800 pangolins have been seized throughout the country in that period.
"It's great to see enforcement stepping up efforts around protected areas and even better that the case resulted in arrests," said TRAFFIC Southeast Asia Senior Programme Officer Kanitha Krishnasamy.
"These are the actions that could break the illegal trade chains and we congratulate the Perak Wildlife Department.
"However, it still bad news for pangolins that continue to be the most commonly encountered mammals in seizures in South-East Asia. No species can hope to survive this level of pressure," she added.
Saturday's case is being investigated under Section 68 of the Wildlife Conservation Act 2010 that prohibits the hunting, taking or keeping of totally protected wildlife without a special permit, which carries a fine of up to RM100,000 (USD 32,713) or up to three years in prison, or both, upon conviction. The law also provides higher penalties for the offence of keeping an immature or female of such species.
The seized pangolins have been released into the wild.
---