Operation Skynet: Forest Police crack-down on illegal wildlife trade in Beijing
Beijing, China, 13th May 2013—Around 200 kg of ivory products were seized last month in Beijing's markets as part of a strategic crack-down on illegal wildlife trade in China.
---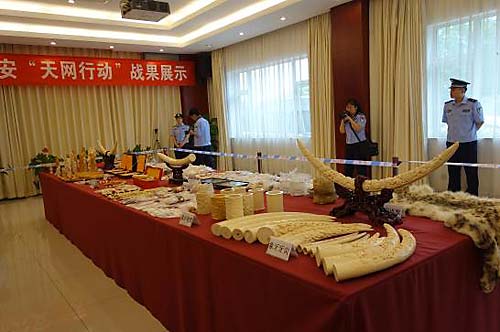 The targeting of Beijing's markets—traditionally points of sale for antiques, flowers and pets and popular with collectors, including tourists and local residents—was part of a nationwide operation code-named Skynet. 
Skynet's seizures in Beijing also included 64 live animals, (snakes, chameleons and a Slow Loris), 65 snake eggs, 160 cubic metres of illegal timber products, Hawksbill turtleshell items, rhino horn and a Snow Leopard skin. A total of 8 traders were arrested and 21 individuals detained.
Initiated by the National Forest Police, Skynet was designed to protect further the country's wildlife and fulfill China's obligations to the Convention on International Trade in Endangered Species of Wild Fauna and Flora (CITES). 
"The investigations and seizures in Beijing and elsewhere in the country are a positive demonstration of the seriousness of China's strengthened commitment to fighting illegal wildlife trade, including the international priority of combating illegal ivory trade," said Dr Jianbin Shi, Head of TRAFFIC in China. 
"TRAFFIC is delighted to see this progress made by the central and local Forest Police. Beijing Forest Police has now set the standard and we look forward to seeing similar approaches used elsewhere in China."
TRAFFIC is a long-term partner of the Beijing Forest Police and provides objective market research results to the agency on a regular basis and also helps train officers on the dynamics and significance of illegal wildlife trade in China, including species identification and market monitoring techniques. The most recent training event took place in April, prior to Skynet.
Regular market monitoring has become an important source of information for the Forest Police and other law enforcement agencies and helped contribute to the success of the operation. 
"A quick follow-up check of the markets concerned seems to indicate a greatly reduced availability of illegal wildlife products," said Ling Xu, TRAFFIC's Senior Programme Officer in China. 
"However, we will keep monitoring the markets, in both physical and online locations, to guide our future collaboration with China's law enforcement agencies."
Beijing Forest Police showcased the seizure to about 30 local media outlets including CCTV, Xinhua News Agency and China News Service at a news conference on 8th May. The proactive outreach to media aimed to increase public knowledge about illegal wildlife trade and marks a big step forward in making law enforcement action more visible and transparent.
The Forest Police warned of more strict enforcement in the future and instructed the public not to cross the line by trading wild animals and their products illegally. 
Wenshu Liu, a spokesperson for the Beijing Forest Police, also highlighted the role demand reduction can help in law enforcement efforts: "The best way to protect wildlife is to keep them in the nature and to avoid consuming them," she said.
Consumer demand reduction has been recognized as a crucial component to address the complex issue of illegal wildlife trade in China and other market destinations. This has been garnering increasing attention by governments, intergovernmental fora, private sector and the general public.
---