New study highlights Bandung market's contribution to Asian songbird crisis
Jakarta, Indonesia, 6th March 2017—A snapshot inventory of Bandung's notorious bird markets has found more than 3,000 birds for sale, 40% of them species considered as highly threatened by Southeast Asia's rampant wild bird trade.
---
Researchers surveyed 71 stalls in Bandung Sukahaji Market—considered to be the largest wildlife market in West Java outside Jakarta—in September 2016 and found a total of 3,178 birds of 154 species, most wild-caught.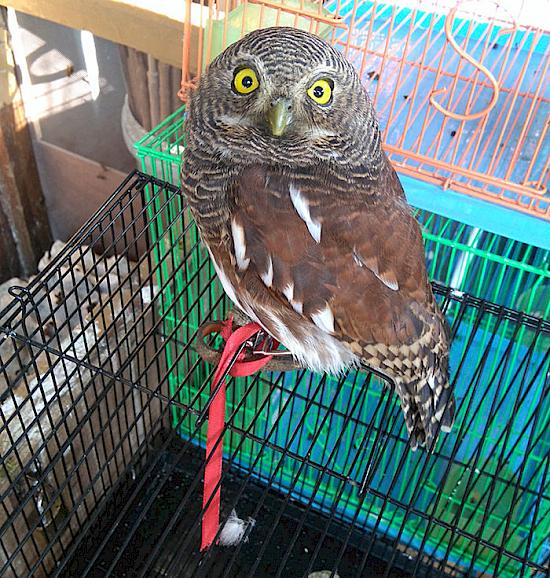 Among them were 1,270 individuals of species identified as in need of urgent conservation action by the world experts who met in 2015 during the inaugural Asian Songbird Trade Crisis Summit.
A tenth of the birds—some 324 individuals of 19 species—were protected under Indonesian law—information that was reported to appropriate authorities for follow-up enforcement action.
"It's yet more proof that the illegal and unsustainable trade in wild birds is alive and well," said Serene Chng, a TRAFFIC Programme Officer based in Southeast Asia and an author of the new report.
The study, In the market for extinction: Sukahaji, Bandung, Java, Indonesia, was published by the Oriental Bird Club's members' magazine BirdingASIA and comes hot on the heels of the second Asian Songbird Trade Crisis Summit, where participants mapped out priority actions to save a number of Asian bird species from extinction—such as eliminating illegal trade in markets like Bandung Sukahaji. 
In common with other Indonesian bird markets surveyed, native species accounted for the vast majority of birds observed. In Bandung Sukahaji Market, most birds were native to Java, but the presence of species from other parts of Indonesia, such as Sulawesi and Papua, clearly indicates the movement of birds from further afield as did the surprise discovery of two un-ringed Timneh Parrots Psittacus timneh—the first time TRAFFIC has observed the species in an Indonesian market in the past five years. 
Timneh Parrot is confined to west Africa where it is under heavy trapping pressure—international trade in the species was recently banned at the Convention on International Trade in Endangered Species of Wild Fauna and Flora (CITES) meeting held in October 2016. 
In addition to the birds recorded, 34 mammals from five species, including one protected Javan Slow Loris Nycticebus javanicus, and 10 protected reptile species were recorded. 
"Sukahaji Market is notorious for selling protected species, not just birds, and we hope that by highlighting ongoing illegal trade, the authorities will take action to clean up these markets," said Chng. 
---