New security plan for Tiger Reserves in India
New Delhi, 20th October 2009—The National Tiger Conservation Authority (NTCA) in association with TRAFFIC India has prepared new guidelines for scaling up security at Tiger Reserves in India. The guidelines were drawn up amidst the on-going Tiger crisis, which has seen more than 60 Tigers poached in India in 2009 to date. 
---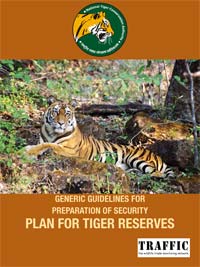 The Generic guidelines for preparation of security plan for Tiger Reserves were released by Dr Rajesh Gopal, Member Secretary-NTCA earlier this month at the office of the Ministry of Environment and Forests in New Delhi. 
The growing demand in some countries for Tigers parts and derivatives is one of the greatest threats to the survival of the big cats. The NTCA has advised all Indian States to prepare a specific Tiger Conservation Plan and asked them to use the newly developed guidelines to prepare security plans for their Tiger Reserves. 
Dr Rajesh Gopal commented, "Illegal demand for Tiger parts and derivatives is a threat to the already endangered Tiger population in the country, necessitating enhanced intelligence-based enforcement. 
"These newly released guidelines will help States to develop an effective security plan for management of their Tiger Reserves." 
Mr Samir Sinha, Head of TRAFFIC India added, "We are grateful to NTCA for giving us an opportunity to contribute our experiences from the field to this document. 
"Illegal trade has become an organized transnational crime. There is a need to develop and action a sound security plan for protection of Tiger areas in the country. We are confident that these guidelines will help in up scaling protection and enforcement." 
The guidelines provide insights into the nature of threats to Tigers, evaluation of protected areas, preparation of security maps, prevention and detection of wildlife crimes, patrol planning, intelligence gathering, running informer networks, establishing criminal profile directories, understanding the scene of crime, media management, and other topics.
---