New guidance on managing stockpiles
Geneva, Switzerland, 20th August 2019—new guidance on how to deal with a recurrent issue facing government authorities—what to do with stockpiles of wildlife products—has been written by TRAFFIC and is available as one of the Information Documents for Parties attending the Convention on International Trade in Endangered Species of Wild Fauna and Flora (CITES) currently underway in Geneva.
---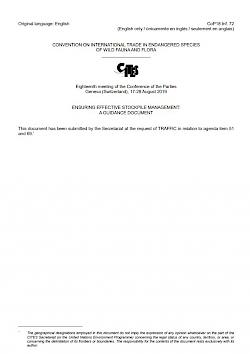 The accumulation of wildlife products, such as elephant ivory, rhinoceros horns and pangolin scales takes place as a continuous process for government authorities worldwide. The products are derived from a variety of sources, including natural mortalities or as a result of wildlife management actions or enforcement actions.
Consequently, the development of effective stockpile management systems—which should never be an optional consideration in range states—has now become imperative in many transit and end-use destination countries too for products that are seized from illegal trade: the security of these products needs to be responsibly addressed through storage until their judicious disposal or ultimate destruction.
As the document details, robust stockpile management systems are essential to reduce the risk of corruption and contraband leakage back into illegal trade; to safeguard evidence in wildlife crime cases and preserve products for forensic analysis; to foster a culture of custodial accountability and transparency; and to enable authorities to deliver on an increasing list of annual international and national reporting requirements.
The document sets out the steps needed for adequate management of stockpiles, including designating the appropriate agencies to manage all aspects of stockpile management and their roles and responsibilities, the development and operational roll-out of stockpile management systems.
---