New centre for biodiversity conservation named after Sir David Attenborough
Cambridge, UK, 21st April 2015—An iconic building in the centre of Cambridge is being named the David Attenborough Building, in honour of Sir David's pioneering work in bringing the wonders of our natural world to our screens. 
---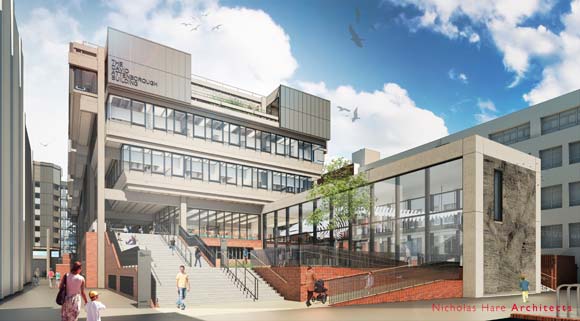 The David Attenborough Building will become a focal point for research and practice to transform our understanding and the conservation of biodiversity. 
Once completed later this year, the building will provide a vibrant hub for the partners in the Cambridge Conservation Initiative (CCI), which includes TRAFFIC: a unique collaboration between the University of Cambridge, the Cambridge-based cluster of leading conservation organisations and the Museum of Zoology. 
The CCI space has been designed to provide collaborative facilities to foster innovation, generate solutions to conservation challenges and create an ideas-rich environment to inspire future generations. It will house over 500 academics, practitioners and students from the University and its CCI partner organisations. 
"Sir David Attenborough's work, introducing and enthusing millions of people to the beauty, fragility and our scientific understanding of the natural world, makes the naming of this building in his honour particularly significant," said Dr Mike Rands, Executive Director of the Cambridge Conservation Initiative. 
"The David Attenborough Building will act as a collaborative hub for the conservation community within Cambridge and beyond. Creating a collaborative and dynamic space in which experts from academia, practice and policy can interact and work together on a daily basis will help shape the future of life on Earth and the relationship between people and the natural environment on which we depend for our own wellbeing and survival."
The collaborative space of the Conservation Campus is complemented by the presence of the University of Cambridge's Museum of Zoology in the lower floors of the building. As part of this project, the Museum of Zoology is undergoing major refurbishment to create new displays to inspire and engage audiences with the wonders of animal diversity, and new stores to preserve its outstanding collections for the future.
---