Nations respond to rhino poaching crisis
Update: On 20th September, South Africa police arrested 9 people, including 2 veterinarians, for their alleged role in a rhino poaching syndicate. Those arrested are due to appear in court on Wednesday.
Update: On 5th October 2010, a UK resident was jailed for 12 months following his attempt to smuggle rhino horn through Manchester Airport. The jailed man was en route to China, when the horn was discovered hidden in the false base of a sculpture. The horns had originated from a deceased animal that lived in Chester zoo.
20th September 2010—the unprecedented surge in rhino poaching in southern Africa is leading to a variety of responses to the crisis worldwide. 
---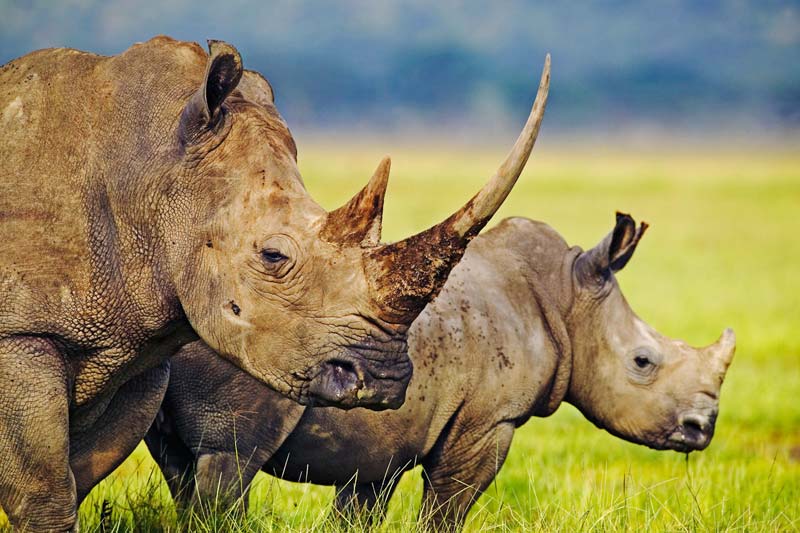 "The number of horns moving out of Africa is escalating, with poached horns able to move from the site of the kill to the global market in as little as 48 hours," said Tom Milliken, Director of TRAFFIC East and Southern Africa. 
"The resurgence in rhino horn trade is linked to the availability of cellular phones for rapid communication, internet marketing so that criminals remain anonymous and the growing presence of Asian organized crime in Africa."
This year alone, around 200 animals have been poached in South Africa for their horns, with media reports of five animals killed in one nature reserve alone this past weekend. 
In Europe, the UK Government last week announced a ban on the export of rhino horns except under exceptional circumstances; previously the export of antique horns was permissible. 
The ban comes after evidence of antique rhino horn and horn products being legally imported from across Europe for re-sale in the UK. The horns are sold at auction houses and then re-exported, often to East Asia, where powdered rhino horn is in high demand for use in medicines, despite no proven clinical efficacy. 
Richard Benyon, UK Minister for the Natural Environment and Fisheries, said: "I am extremely concerned about the increase in the number of rhinoceros horn products being sold through UK auction houses. We believe this is providing a financial incentive for poachers and encouraging the use of rhinoceros horns in Asian medicine. 
Following the UK's announcement, government officials will be contacting all auction houses and major antique trade associations in the country to highlight the implications of trading rhino horn, and explain why most applications to export such items will be refused. The case will also be made to ensure a co-ordinated EU approach to the problem. 
Earlier this month, WWF South Africa launched a campaign aimed at raising funds and support for those who place their lives on the line in the fight against rhino poaching.
"We're asking people to take action during the month of September to help us protect our remaining rhino populations and also support our rhino warriors—the men and women at the frontline who risk their lives daily against sophisticated, ruthless and heavily-armed international criminal gangs who run the illegal rhino horn trade," said Dr Joseph Okori, Head of WWF's African Rhino Programme.
The month will culminate in "Make a Noise for Rhinos Day" on 22 September, when WWF asks everyone to dust off their vuvuzelas and make a noise.
Namibia has warned poachers to steer clear of its rhino populations. 
"Poach a rhino in Namibia, and the blood of the people will be on your hands," said Netumbo Nandi-Ndaitwah, Namibia's Minister of Environment and Tourism, speaking at an awards ceremony for Ministry staff in Windhoek.
"You will not be poaching a State rhino, but will be stealing from our people, depriving whole communities of a livelihood."
She noted that Nambia had one of the best track records in the world for arresting, prosecuting and convicting poachers, according to the Elephant Trade Information System, the global ivory trade monitoring system managed by TRAFFIC on behalf of Parties to CITES (the Convention on International Trade in Endangered Species of Wild Fauna and Flora).
---