Major ivory seizures in Viet Nam
Hai Phong, Viet Nam, 27th May 2010—in the past month, Vietnamese Customs officers have discovered major shipments of illegal ivory at the northern port of Hai Phong.
---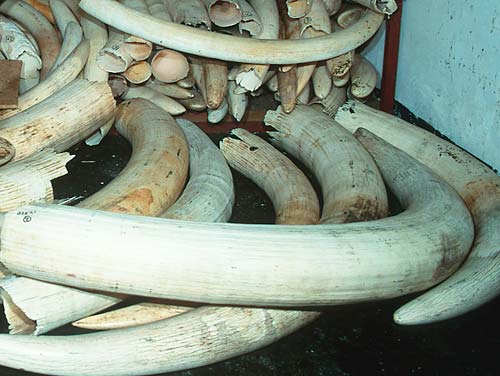 The latest  confirmed seizure, of around  1,665 kg of elephant tusks concealed in a container of dried seaweed, is also the fifth major seizure of illegal ivory Customs officers at the port have made in the last two years and is one of three major wildlife confiscations in the past month. 
Yesterday, media reports from VNA indicated that a third significant ivory seizure has occurred, although this has yet to be verified. 
The 1,665 kg of elephant tusks were found in a container that arrived from Malaysia on board a vessel on 12th May. The consignment had been labeled for temporary import and re-export and was addressed to a company in the city, news reports said. Customs inspectors opened the container on 14th May and found 367 cut pieces of ivory hidden among 144 packages of dried seaweed and 199 packages of snail shells.
Officials have declined to say what country the container was destined for. 
On 29th April, officers at the same port discovered 2,194 kg of elephant tusks, cut into 985 pieces and hidden in two shipping containers of dried seaweed from Kenya.
This consignment was reported to have arrived in Hai Phong on board a Hong Kong registered vessel, sailling from the Mombasa port in Kenya.
Customs inspectors became suspicious when they found abnormalities in the declaration forms and discovered the tusks when they opened the container to check its contents.
"Customs officers at Hai Phong are proving that vigilance is the key to halting this illicit trade and are making it clear to ivory traffickers that they're not welcome in Viet Nam," said Dr William Schaedla, Director of TRAFFIC Southeast Asia.
Southeast Asia has come under scrutiny for its role both as a popular market for ivory products and as a transit point in the illegal ivory trade between Africa to China. 
According to the latest Elephant Trade Information System (ETIS) report, the world's largest database on ivory seizures, demand in China is a significant driver of the ivory trade, with Thailand and Viet Nam highlighted as countries of concern in the region. 
However both countries have stepped up enforcement efforts and seen a steady rise in seizures of large illegal ivory shipments at ports and airports over the last year. 
Customs officers in Bangkok's Suvarnabhumi Airport have seized several large shipments since 2009 including one just last month in which they found close to 1.4 tonnes of elephant tusks inside three crates on board a flight from Qatar. 
Thailand and Viet Nam have both embarked on high-profile campaigns centered at the airport, to raise public awareness and support for efforts to curb illegal wildlife trade.
"Such enforcement is very welcome, but needs to be backed up by equally strong measures taken in the ivory source countries in Africa and countries where the ivory is transiting," said Sabri Zain, TRAFFIC's Advocacy and Campaigns Director. 
In a separate incident this month, 84 packages of pangolin scales (about 1,800 kg) were found hidden among dried seaweed when Hai Phong customs officials inspected a ship on 11th May. Pangolins or scaly anteaters are commonly illegally traded in the region, despite an international trade ban under CITES (the Convention on International Trade in Endangered Species of Wild Fauna and Flora).
---